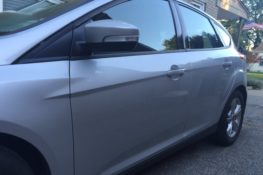 After years of negotiation, courtroom drama and even an initial rejection by the US Court of Appeals, the Ford PowerShift transmission class action settlement has reached final approval. With that approval, current and former owners of 2011-16 Ford Fiesta and 2012-16 Ford Focus vehicles with defective transmissions are now required to work within the class action arbitration program in order to pursue a buyback. This requirement to use arbitration as opposed to a traditional Lemon Law lawsuit presents unique challenges, and potential benefits, for those involved. Fortunately, current and former owners that faced years of frustrating repeat repairs and transmission challenges can rely upon our law firm for support and assistance within the Ford class action settlement's PowerShift arbitration and buyback program. We proudly state that we've represented thousands of owners victimized by Ford's defective transmission and that no law firm in the country has represented more DPS6 victims than our firm.
In case you have not already done so, our firm strongly recommends reading all of the incredible articles published by the Detroit Free Press as part of their exhaustive investigation on Ford's faulty and defective PowerShift transmission. While the series' first article outlined what Ford knew before selling these problem vehicles to the public, follow-up articles touched on the reaction of Congress, secret repair programs Ford instituted to limit complaints at the dealership, and more. The paper's article on the class settlement approval, though, resulted in mixed reactions as some believed Ford was offering buybacks and that major cash payouts would soon be made available, while others, upon doing the math, realized very few buybacks might be occurring in the class settlement. Even with the most optimistic valuation of the settlement benefitting affected owners, represented to be as much as $500 million by one of the attorneys involved in the settlement, would only amount to 1.5% of owners receiving a buyback … or, more importantly, that 98.5% of owners were not expected to receive a buyback for their PowerShift transmission issues.
Make no mistake, even though the DPS6 PowerShift arbitration and buyback program is relatively straightforward, there are plenty of challenges to pursuing that claim which can result in a failed buyback attempt without proper representation. In an arbitration program relying heavily upon repair records, total repair attempts and state laws surrounding Lemon Law, class members can make the case for their vehicle being defective. Knowing how to present your vehicle's history and your experiences with the transmission is crucial, though, especially because of how often owners were refused repairs. Evidence must be submitted verifying that state Lemon Law requirements have been satisfied., While helpful elements in a traditional Lemon Law claim like document review and deposing Ford employees are not available in this PowerShift arbitration program, all is not lost when a compelling case can be presented on your behalf detailing Ford's ongoing transmission problems. Fortunately, we are here to help.
There is some other good news for class members who would like help in making a claim through the PowerShift arbitration program: the settlement requires that Ford pay all attorney fees, without impacting the claimant's award in any way. This means your buyback award would not be reduced in any way for our assistance; no out-of-pocket fees are ever charged in exchange for our services in helping you through the Focus/Fiesta class settlement arbitration program. It helps us help as many owners as we can that have experienced repeat repair issues. It also helps owners avoid facing Ford's lawyers alone, while attempting to secure a buyback in the PowerShift arbitration program.
So what are the next steps for class members in the Vargas v. Ford Motor Company class action settlement interested in seeking a buyback?? First and foremost, time is of the essence as the clock is already ticking. Current and former owners may have as little six months from the approval date to ensure that their full rights are available in this buyback effort. The most important thing needed now, though, is for owners and former owners who faced significant repair issues to review their options and hopefully move forward with a buyback claim within the PowerShift arbitration program, by contacting Representing more than 12,000 owners of faulty and defective Ford DPS6 transmission equipped vehicles in individual claims outside of the class settlement has provided us with a unique understanding of what Ford knew and when, after reviewing millions of pages of Fords' internal documents. We have spent years suing Ford over their faulty PowerShift transmission – we are ready to use that knowledge and experience in the arbitration buyback program to help you!
For more information on how we may be able to help you pursue a buyback in the Ford class action settlement's PowerShift arbitration and buyback program, please click here to send us an email or call us at (844) 808-7529.