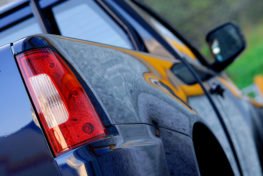 In the sort of news you're unlikely to see reported on TV or at your favorite websites, the F450 has been added to the existing Super Duty emissions scandal Ford finds itself embroiled in. While we had announced that Ford was being targeted for class action litigation for its F250 and F350 vehicles, circa model year 2011-17, an amended class action complaint filed in May expands the scope. Now, as the complaint to the case indicates, model year 2011-17 F250, F350 and F450 are alleged to be "affected by the unlawful, unfair, deceptive, and otherwise defective emission controls utilized by Ford."
In case you were unaware, the emissions class action case against Ford for its Super Duty vehicles is relatively straightforward. In short, as part of testing performed on a wide range of diesel vehicles, it's claimed that Ford's Super Duty F250 and F350 trucks were found to be emitting far higher levels of Nitrogen Oxide (NOx) than what was reported during governmental testing. Historically, such discrepancies amidst emissions scandals are found to be due to unique software installed on the truck that detects when the vehicles are in a testing environment. Thus, government investigators find the vehicle to be in compliance with regulations when on a treadmill in a laboratory setting of sorts, while emitting far different levels of emissions when operated on the open road.
Beyond the existing legal issues and claims related to its Super Duty trucks not meeting federal emissions requirements, Ford has yet another scandal brewing. By their own admission, the manufacturer is now aware of discrepancies in its own emissions testing. For that case, Ford has self-reported that workers became concerned with issues in their internal processes and, as a result, hired an outside firm to investigate the issue. While it may seem like an act of needed accountability, the move was likely heavily influenced by legal disclosure requirements as investors would now need to address yet another scandal, as well as signs Ford would be required to notify governmental investigators from the EPA, DOJ and elsewhere about the matter.
EMISSIONS SCANDALS GO BEYOND POLITICS
It is important to understand that owners of the 2011-17 Ford F450 Super Duty trucks should not be solely focused on the politics of emissions standards. Whether you agree with such restrictions or not, the reality is that the Super Duty class action case has survived multiple failed efforts by Ford to dismiss the case. This means that the court continues to see sufficient apparent merit in the case, which means you absolutely need to pay close attention to ongoing developments.
Without regard to the greenhouse gases important to this case, owners of these trucks should be aware that emission scandal settlements frequently impact their vehicle one way or another. Most often this is through a "patch," the term used to describe a software upgrade or "fix" that undoes the 'unique circumstances' that permitted the truck to falsely test as being in compliance with regulations, when the manufacturer knew that it was not. In the event a patch is required to bring the truck into regulatory compliance, various states may make it a mandatory installation. Historically, patches have resulted in reduced MPG, performance, fluid usage, resale value and more. EcoDiesel owners have reported to our firm that a recent patch to resolve Fiat Chrysler's own emissions violations have not only reduced MPGs and performance, including significant hesitation while accelerating, some have even experienced complete engine failure. Sound like something you want to deal with?
THE PROBLEM WITH WAITING
If you own a Ford F450 truck, the time to act is now. Waiting for a class action settlement to determine your rights can spell disaster, especially in the worst-case scenario where problems caused by a patch can cost more than the payout offered in the class settlement. If you own one of these trucks, contact our firm as soon as possible to speak with a team member about how we can help. Our firm represented the most clients who opted out of the EcoDiesel emissions class action settlement and we fully expect to be at the forefront in representing owners that decide to opt out in this Super Duty case.
Get your claim started today – click here to provide us your vehicle's information, send us an email to schedule a time to speak, or just call us at 844-808-7529 to talk with a team member about making a claim before it's too late.
---
Important Notice: The preceding information represents the opinions of Stern Law, PLLC, that should be thoughtfully considered by you and lawyers with whom you should consult. Despite our opinions and views expressed above, and because every case is different, nothing here can or should be understood to represent a guarantee of success or that every owner will always do better by opting out and suing Ford directly. Questions concerning the terms of the Ford Super Duty class action settlement should be directed to class counsel, whose website can be accessed by clicking here or by calling 1-888-381-2889. This article should not be considered a solicitation for legal services by Stern Law, PLLC, to anyone currently represented by legal counsel.