WARNING: Xarelto® May Lead to Uncontrolled Hemorrhaging and Even Death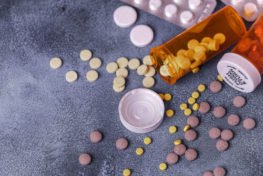 The drug Xarelto® (Rivaroxaban) is a widely prescribed anticoagulant medication that can cause serious and irreversible bleeding and even death. Since its approval in 2011, Xarelto® has been linked to a number of deaths and serious and life threatening injuries. In fact, individuals taking Xarelto® have been hospitalized in the thousands due to severe and uncontrollable bleeding events, of which there currently is no antidote (a cure to stop the bleeding).
Those patients that experienced bleeding events while taking Xarelto® may be eligible for compensation from the maker of this dangerous drug. If you were injured as a result of taking Xarelto®, it is imperative that you contact the bad drug lawyers at Stern Law, PLLC as soon as possible to protect your legal rights. We are compassionate, dedicated and highly experienced Xarelto® Injury Lawyers who will fight hard for you to be justly compensated for your injuries. Call us now at 1-844-808-7529 to learn more about your legal options.
What is Xarelto® and Why is it Used?
Xarelto® ® is drug that is manufactured by Bayer HealthCare and marketed by Janssen Pharmaceuticals, a Johnson & Johnson subsidiary. Marketed heavily as a less intrusive alternative than Warfarin (Coumadin), Xarelto® is typically used to treat deep vein thrombosis, a blood clot that can occur after certain types of surgeries such as hip and knee replacement operations. Xarelto® is also used to treat pulmonary emboli (blood clots in the lungs) and has also been effective in lowering the risk of stroke in individuals who suffer from atrial fibrillation (an arrhythmia of the heart).
Xarelto® Can Cause Injury and Death
There have been several thousand injuries and hundreds of deaths associated with the drug Xarelto® since its introduction in 2011. Notwithstanding, the drug has yet to be recalled by the FDA.
Serious side effects associated with taking Xarelto®
Internal bleeding or hemorrhaging
Excessive and uncontrollable bleeding following an accident or injury
Kidney bleeding
Heart attack
Gastrointestinal bleeding
Stroke
Severe peripheral edema (swelling of the lower limbs)
Severely decreased hemoglobin levels
Cerebral (brain) hemorrhaging
Hematoma (a mass in one's blood)
Dyspnea (difficulty breathing)
Uncontrollable Bleeding
Without a doubt, the most serious side effect of Xarelto® is the fact that it can cause unstoppable bleeding events in certain people. This can lead to hospitalization and, in the most serious cases, death. Currently, the drug makers of Xarelto® have yet to develop a reversal agent or method for stopping the bleeding caused by Xarelto®. Otherwise stated, unlike older class anticoagulants such as Warfarin (released to the public back in 1954), the administration of Vitamin K will not stop a bleed when the patient is on Xarelto®.
Xarelto® & the FDA
Several lawsuits have called into question the process pursued by the FDA to approve Xarelto®. Reviews of the clinical trials involving the drug reveal systematic errors. Specifically, in nearly half of all clinical trials rated the drug as severe, indicating troubling findings that should have been significant enough to require additional regulation and public warnings.
For more information on Xarelto and the FDA safety warnings associated with the drug, click here.
Class Action Lawsuits
Due to the many lawsuits filed across the country against the manufacturers of Xarelto®, in December of 2014, a panel of federal judges elected to centralize all Xarelto® lawsuits into a Multi-District Litigation (MDL) in the United States District for the Eastern District of Louisiana. All of the complaints in the MDL involve similar allegations that Bayer Healthcare and Johnson & Johnson failed to adequately warn consumers or the medical community about the risk of serious and uncontrollable bleeding events associated with the blood thinner.
Stern Law, PLLC: Fighting for the Recovery of Our Xarelto® Injured Clients
If you or a loved one suffered serious bleeding or other injuries while taking Xarelto®, the time to act is now to preserve your legal rights. Accordingly, it is crucial to speak with an attorney who is qualified to handle the various complexities and nuances associated with suing pharmaceutical and medical device manufacturers. Only skilled lawyers can help victims of Xarelto® recover monetary damages for costs due to medical treatment, pain and suffering, emotional trauma, counseling costs, funeral expenses, as well as lost wages/income.
Get Your Free Case Evaluation
At Stern Law, PLLC, we are currently fighting hard for the rights of our clients to be compensated for their injuries caused by Xarelto®. We want to offer you the same dedication and vigor, so give us a call today to see if you or a loved one may be entitled to recover monetary damages from complications caused by Xarelto®. Call Stern Law, PLLC today at 1-844-808-7529, or complete an online contact form for assistance. Click here now for more information on scheduling your free case evaluation with one of our seasoned Xarelto® Injury lawyers.