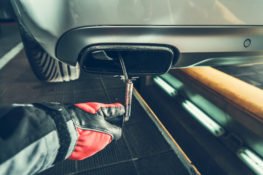 There's an old saying that "no news is good news." Unfortunately, this may be the case for Mercedes-Benz's parent company Daimler when it comes to the ongoing governmental probe for emission violations. Though the U.S. government has yet to impose fines or recall requirements on the manufacturer, the company has already been held responsible for emissions discrepancies with their diesel vehicles. Facing nearly a billion dollars in fines and major recalls in Germany after that country's own investigation, Mercedes-Benz presumably will face continued scrutiny in the U.S. as that criminal investigation, and a class action, continue. And as the Mercedes-Benz emissions scandal wears on, owners will be paying close attention to see how it affects them and their vehicle(s).
The LA Times recently highlighted the timeline the Mercedes-Benz emissions saga has covered. Despite the fact that consumer advocacy groups have requested that the probe receive more attention and be concluded in a timely fashion, there is no clear indication of when the U.S. government will complete their efforts. By comparison, the German government's own investigation, taking a mere year and a half to complete, shows that it would be extraordinary for the American probe to not result in similar penalties for the manufacturer … and likely major changes to these vehicles.
In that German investigation, again conducted over roughly a year and a half, Daimler was ultimately determined to be responsible for manufacturing diesel vehicles that do not comply with legal requirements regarding emissions controls. That investigation resulted in fines totaling nearly a billion dollars and multiple recalls, involving 60,000 vehicles and then, later, hundreds of thousands of vehicles being recalled for non-compliant emission setups. Those recalls came after the manufacturer had already recalled over 3 million vehicles across Europe for discrepancies with their emissions systems. The extended nature of these European probes, which seemingly continues to grow by the month, highlights the reality that problems with the emissions systems in Daimler vehicles is not limited to a select group of cars or trucks but, instead, a wide range of the company's international lineup. This is becoming less of an issue about whether a certain model is outside of emissions limits and, instead, more about what the company chose to do in circumventing legal standards on emissions.
Only time will tell on whether these emission discrepancies were somehow only limited to European models or if the class action lawsuit's allegations prove true. Should those allegations be proven, and Mercedes-Benz vehicles sold in the U.S. were in fact built with 'cheat deices,' and those vehicles  will face their own software update requirements. How those updates affect MPGs, performance, acceleration, overall reliability, re-sale value and more remains to be seen. Unfortunately, historically, emission updates have not been kind on owners and vehicles alike.
In the United States, the following Mercedes-Benz diesel automobiles are currently subject to the ongoing class action lawsuit:
Mercedes-Benz ML320
Mercedes-Benz ML350
Mercedes-Benz GL320
Mercedes-Benz E320
Mercedes-Benz S350
Mercedes-Benz R320
Mercedes-Benz E-Class
Mercedes-Benz GL-Class
Mercedes-Benz ML-Class
Mercedes-Benz R-Class
Mercedes-Benz S-Class
Mercedes-Benz GLK-Class
Mercedes-Benz GLE-Class
Mercedes-Benz Sprinter
Our firm recommends that American owners be proactive in protecting their legal rights due to the lawsuits and governmental investigation that are ongoing regarding Mercedes-Benz emissions. A class action settlement, intended to be a compromise between Class Counsel and the manufacturer can, unfortunately, fail to meet the needs and expectations of vehicle owners. Instead of undoing the harm caused and leaving owners with little benefit,  these settlements can instead be helpful in limiting the manufacturer's potential liability (while failing to properly compensate owners). Our law firm represents owners of a variety of different vehicles who opted out of their own class settlements due to concerns about the compensation that was offered. Our firm is taking similar action in preparing Super Duty owners facing their own emissions scandal – and for owners of these Mercedes-Benz vehicles in America who want to review their legal options outside of a class settlement.
The time to act is now, before you face a narrowed timeline in which you must choose between accepting a class settlement or opting out. With emissions cases like this, owners and former owners will be automatically subject to the class settlement terms unless they take the steps required to opt out. We are not the class action law firm but, instead, a law firm focused on protecting owner rights for individual claims. Our firm does not charge anything out-of-pocket for our representation, meaning we will be able to help Mercedes-Benz owners affected by a class settlement to more fully understand what is offered and how our firm would pursue compensation on their behalf. The ongoing governmental investigation will likely come to a close before a class action settlement is reached; once those legal efforts are completed, our firm will begin efforts to protect client rights in this matter.
Want more information on the Mercedes-Benz emissions scandal or how we plan to help owners? Call us at (844) 808-7529 to speak with a team member about our firm's background in auto cases, how emissions scandals can impact owner rights (and the value of their vehicle) and more. Don't waste any time in taking advantage of our no out-of-pocket assistance, and do so before you find yourself overloaded with questions and concerns about  your legal rights – we hope to hear from you soon!