Overview of Medical Malpractice Cases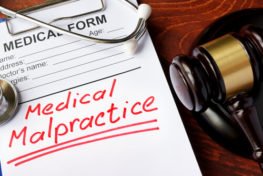 When we need medical care, we trust in doctors and other medical professionals, as well as in the providers that employ them. It's understood that not all medical procedures go perfectly, and not everyone who is ill or injured recovers. But it's also understood that medical providers are required to deliver a standard of care and that when they fail to do so they should be held accountable.
If you or a loved one of yours has been harmed while under medical care, you have a right to question it, and to find out what happened and why. If the evidence indicates negligence or that a preventable medical error has occurred, you deserve financial restitution for your losses. Stern Law can help you get the answers and accountability that will help to ease your mind at a trying time.
We Hold Negligent Medical Providers Accountable for Mistakes
Stern Law, PLLC, works with individuals and families whose lives have been torn by another person's or entity's negligence, such as in medical malpractice cases. We have the resources required of medical malpractice cases, which are complex and time consuming. We also have the dedication necessary to pursue daunting cases on behalf of injured patients and grieving families.
You do not have to accept that terrible things sometimes happen and there's nothing you can do about it. Stern Law can do something about it. We can help you fight back. We are committed to providing information and resources to people who have been harmed by medical care they placed their trust in. We can help you identify your best options and provide you with the legal advice and ammunition you need to fight back. We stand up for people like you.
Was Your Bad Medical Outcome Actually Malpractice?
When we describe a case as medical malpractice, we mean a health care provider has injured or caused the death of a patient by failing to act in accordance with a reasonable standard of medical care. By reasonable standard of care, we mean what a reasonably careful provider would have done had they faced the same or similar circumstances.
There is an element of risk with any medical procedure, and a positive outcome cannot ever be guaranteed. But we should be guaranteed that medical providers will not ever neglect a patient's needs. We should also be confident that we or our loved ones are being treated by medical professionals, paraprofessionals and technicians who are capable and properly equipped to provide adequate care.
A landmark study by the National Academy of Sciences' Institute of Medicine (IOM) titled "To Err is Human: Building A Safer Health System," said as many as 98,000 people die every year as a result of medical errors that could have been prevented. Many others suffer lifelong disabilities.
And it's not just medical practitioners who cause harm. "More commonly, errors are caused by faulty systems, processes, and conditions that lead people to make mistakes or fail to prevent them," the IOM said.
If you suspect a bad medical outcome that left you or a loved one harmed was the result of negligence or preventable medical error, you owe it to yourself to find out whether medical malpractice occurred. Stern Law can investigate what happened to you and get answers. When malpractice has occurred, we will fight for compensation for you.
Where Is Medical Malpractice Likely to Occur?
Few people are as vulnerable as a patient in dire need of medical care. A patient puts their life in another person's hands. In fact, they put their life in the hands of many people, as well what's often a bureaucratic system that dictates how these many people deliver medical care.
In a single hospital stay for a serious injury or illness, a patient is vulnerable to potential injury by:
In other cases, preventable error or negligence may amount to:
A variety of negligent medical mistakes and omissions may occur and, upon investigation, be identified as medical malpractice
Stern Law helps individuals and families find answers when they have been harmed instead of helped by medical providers. Medical malpractice claims require extensive investigation and keen awareness of how to prove liability for the harm that resulted when a medical professional has made a mistake.
Meanwhile, several factors work to make medical malpractice cases more difficult. Statutes of limitations, the time period in which it is possible to bring a legal case, vary from state to state. Laws that affect medical malpractice claims are constantly in flux. Insurance companies often try to run out the clock during medical malpractice case negotiations. Eventually, they hope, the case could simply go away due to the law — or an injured patient's death.
After a medical error has led to devastating harm, it is important to find the right legal help as soon as possible. Stern Law can help you determine whether you have the foundations for a strong medical malpractice case. We will investigate and help you move forward legally if at all possible.
Contact Stern Law About a Medical Malpractice Case
If you believe you or a loved one has been harmed by medical error or negligent medical care, contact Stern Law. We will speak for you.
Our ultimate goal for individuals and families hurt by medical malpractice is to ensure they receive compensation they deserve to help put their lives back together. Stern Law works with a national network of medical consultants and litigation attorneys to investigate and pursue medical malpractice claims for our clients. Medical malpractice lawsuits are complex and often difficult cases, but they can be won. Stern Law has a record of winning.
Contact Stern Law today. We will listen to you and to your needs, investigate your case, and advise you of the legal options available to you. We will provide legal representation that is tailored to your needs. We pursue medical malpractice cases aggressively and with dedication to obtaining compensation for our clients. We represent individuals and families. We don't simply handle cases.