Nurse Malpractice Lawsuit Lawyer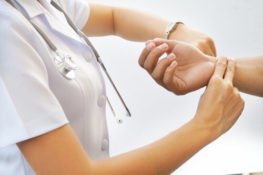 Almost anyone who receives treatment or undergoes a medical procedure will spend a significant amount of time with nurses. These dedicated men and women provide compassionate and skilled care in many situations. However, these healthcare providers also can cause severe and long-term harm when they make preventable mistakes. It is important to hold them to the same standard as any other healthcare provider who alters the lives of individuals and their families by making a terrible error.
There are times when a nurse makes a mistake in conjunction with administering care to a patient under the oversight of a doctor. In other cases, the error was completely isolated and all the fault lies with the nurse. It is important to understand the totality of the circumstances in order to bring an action against the right parties. A dedicated and skilled medical malpractice attorney, such as the ones at Stern Law, PLLC, who advocate fiercely on behalf of their clients, can help a victim of professional malpractice understand why bringing a case against a nurse is important.
When a Nurse Commits Malpractice
A nurse has a duty to provide care that meets the applicable medical standard, just as any other healthcare provider is obligated to do. When the nurse breaches that duty of care and causes severe harm, the resulting injury can be long-term and devastating. Nursing errors also have led to fatalities, leaving family members to struggle to get through a horrific loss.
There are many different situations in which a nurse might make a mistake that results in long-term or permanent harm, including:
A nurse is assisting a doctor with a surgical procedure – In these scenarios, the nurse often has specific responsibilities that he or she carries out without direct control of the doctor, such as removing all surgical gauze at the conclusion of a procedure before the patient is closed up. If a mistake is made during the performance of these duties, it is important to ensure that the nurse is included in a malpractice action;
A nurse provides care in a nursing home or assisted living facility – There are many facilities where a doctor establishes the overall plan of care, but all of the actions necessary to carry out these plans are undertaken by nurses. In some cases, there is very little, if any, oversight. In addition, the nurse is not the employee of the doctor who has crafted the plan, but of the facility or an independent agency;
A nurse provides home care – A person who requires extensive medical care may have a nurse who regularly comes to the house, working independent of a doctor except that the overall plan of care was developed by a physician. There are many tragic mistakes made in these circumstances;
A nurse administers medications in a hospital – There are so many errors that are made in these instances, whether due to the fact that a nurse is hurrying to get through all the tasks to which he or she is assigned or simply misreads a chart. These mistakes could involve the administration of the wrong medication or the right medication in the wrong dose. Regardless, the consequences can be tragic; or
The nurse works for a doctor in a practice – There may be a mistake where both the doctor and nurse are partially responsible for the harm that was done. It is important that both are included in the action to ensure that the person who suffered the harm can recover the maximum amount possible.
Some of the more common mistakes that lead to malpractice actions against nurses include:
Administering the wrong dose or type of medication;
Failing to provide proper care to a patient with bandages and/or dressings, including failing to report or treat infections in open wounds;
Failing to ensure that a patient is eating or drinking properly;
Failing to ensure that critical medical equipment is functioning properly;
Failing to add notations to a patient's chart that are critical for appropriate treatment; and
Failing to respond to requests for assistance from a patient.
Depending on the circumstances surrounding the mistake, the individual or entity that employs the nurse may be liable, at least in part, for the harm that was done. This may be based on the fact that the employer directly was involved in the mistake by providing negligent directions. However, it also may be possible to join a company that employed the nurse for failing to take appropriate steps to screen the nurse for potential problems. If an employer missed the fact that the nurse lied on his or her resume or did not have the right training for the position in which he was placed, then the employer may be vicariously liable for the harm that was done.
Stern Law, PLLC Develops Effective Malpractice Cases
Nurses provide critical care for millions of people every year, but when they make a mistake, the harm can be severe and shattering for the individual and his or her family. For more than 30 years, the experienced attorneys at Stern Law, PLLC have analyzed every aspect of a potential case in order to craft a strategy based on the unique aspects of the case, including joining nurses in the malpractice action if they were partially or completely responsible for the mistake. Stern Law, PLLC also has compassionate and knowledgeable staff members ready to provide information and resources for those who have questions about medical malpractice issues 24 hours a day, seven days a week, regardless of whether or not you are a client. Call us at 1-844-808-7529 or fill out an online contact form in order to learn how we can help you get through this difficult time.