Midland Flood Claims Due to Edenville and Sanford Dam Failures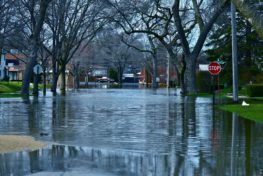 Flooding is commonly associated with coastal cities and tropical storms. Yet, unfortunately, residents of the city of Midland, Michigan, and surrounding areas, found themselves also the victim of catastrophic flooding. The ensuing damage, resulting in extensive property damage for a population not prepared or aware of potential harm, is a true disaster. However, that reporting in the days after the breached dams involves significant information that the catastrophe could have been avoided makes it critical for those affected by the Midland flood, caused by failures of the Edenville and Sanford Lake dams, to seek out assistance from lawyers in the area.
In May 2020, Michigan Governor Gretchen Whitmer declared a state of emergency for Midland County. President Trump later signed a federal emergency declaration for the Midland area. More than 11,000 residents were forced to evacuate from Midland, Sanford, and Edenville Township as the Tittabawassee River in Midland reached major flood stage on Tuesday, May 19th, after days of heavy rain. Photos of the damage caused by flooding in Midland County can be seen here.
Start Your Midland Flood Case Today!
Problems quickly began to escalate when the Edenville dam, owned by Boyce Hydro, was breached on the evening of May 19. Water flowed downstream to Sanford Lake, where the Sanford dam
was also overrun
but
had not completely failed
as time wore on.
The failure of these dams and subsequent flooding has resulted in the destruction of property (including homes, commercial buildings, crops, vehicles, and more) for countless residents and businesses in the area of Midland and in the surrounding communities. It has also led to a boil water advisory, and the City of Midland Wastewater Plant was forced to notify the public of ongoing sanitary sewer overflow issues caused by the Midland flood.
According to the Detroit Free Press, the Edenville dam has a troubling history of issues, including the revocation of a hydro-power generating license by federal regulators in 2018. The dam's owners' license was revoked due to "years of failure to address safety problems — especially the dam's ability to withstand a major flood."
Regulators also found inadequacies in the dam's safety designs in 1998. These issues were discovered shortly after two, 2.4-megawatt turbine generators were installed, and the dam was licensed for hydro-power generation.
Boyce Hydro is seeking to avoid responsibility by claiming that state regulators at the Michigan Department of Environment, Great Lakes and Energy are responsible for this incident and the resulting damage.  A government spokesman for the State of Michigan denies these claims. However, according to reports, the State of Michigan apparently became legally responsible for the dam after the Federal Energy Regulatory Commission terminated Boyce Hydro's hydroelectric power generating license during September 2018, after multiple safety related issues had increased the likelihood of a flooding disaster.
Click Here to Get Started
Federal regulators identified these issues and have been warning of a potential breach for more than two decades. Those who were negatively impacted by this breach have a right to hold those responsible accountable for their actions, or in this case, inaction. An environmental accident the size of the Midland flood has already caused devastating damage to property and will continue to have an impact on individuals and business owners in the form of:
Damage to real estate, including required home maintenance, repairs, and lost property value
Damage to personal property, including, boats, docks, vehicles, furniture, clothing, and other items
Damage to commercial property, including buildings, inventory, and other assets
Damage to crops, landscaping, and seawalls
Business interruption and loss of profits
Depending on the circumstances, you could be eligible to hold the dam's owners or perhaps the state of Michigan responsible for the losses you've incurred due to the Midland flood. For more examples of the types of damages we believe residents of the county could pursue for the Midland flood, click here.
Our experienced environmental injury lawyers are monitoring this developing situation closely, and we are prepared to help those in our community get justice and fair compensation for the harm and losses they've suffered as a result of this catastrophe. It is troubling that this flooding disaster occurred but the fact that a wide range of warning signs appear to have been ignored makes it critical that those harmed protect their rights to pursue compensation for what they deserve. Fill out our online contact form or  contact us through our website today to discuss how we can help you recover due to Midland flood damage.