Nursing Home Abuse Lawyer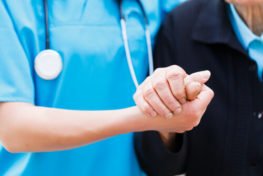 About Nursing Home Abuse
Your parents gave you life and raised you. They provided the nurturing environment that enabled you to grow into the adult you are today. However, as your patients aged, they needed more assistance each successive day than you could provide, so you researched the nursing home options that were available to you and selected one that you believed would best provide the care for your parents that they deserved. Unfortunately, this trust was betrayed in the most unimaginable way possible and you have learned that one or both of your parents has suffered abuse while in the care of a nursing home.
Nursing homes are supposed to meet all of the daily needs of their residents. State and federal laws impose a legal obligation to provide care and assistance for elderly patients and those special needs patients who are entrusted to the oversight of a nursing home. Each year, there are approximately 35,000 nursing home patients who endure pain, suffering, and unnecessary injury and death because of the negligent or reckless actions of people working in nursing homes. Nursing home abuse and neglect may take many forms, including ignoring residents, leading to pressure sores, insufficient turning and repositioning, improper administration of medication, infliction of physical harm, misuse of patients' financial resources, and other wrongful acts.
Although you actively are fighting for your parents, there are many residents of nursing homes who are placed in these facilities because they have nowhere else to go and nobody to care for them. This leads to a culture of abuse that needs to be corrected. These victims face terrible circumstances because they do not have the means and the voice to fight to rectify the injustices being done to them. This is one of the reasons that these wrongdoings continue for as long as they do. Another reason that the abuses continue is that residents are afraid to report the negative treatment because they do not want to overburden their family or they are afraid that the staff will retaliate. In addition, some residents are incapable of communicating that they have been neglected or otherwise harmed because of physical or mental infirmities. Stern Law, PLLC is committed to giving a voice to all of those who have suffered in a nursing home or assisted care facility.
Stern Law, PLLC: Our Lawyers Make a Difference
Ensuring the health and well being of an aging parent is something that most of us will need to face at some point in our lives. When the time comes to care for them the way that they cared for us, we are committed to doing the best that we can for them, including finding a home where they will get the care and attention that they deserve. It is devastating to discover that your parents experienced neglect and abuse instead of dedicated service and consideration. Stern Law, PLLC has built its practice around getting justice for the most vulnerable of our society. Subjecting our senior citizens to horrible treatment certainly earns the guilty nursing homes and staff a rapid and aggressive response. We will work with you to gather the evidence to make sure that the people who hurt your parents pay for their actions.
If you are looking for answers about what can be done to help your parents recover for the harm that they suffered, I am here to offer every possible resource. Call our team today at 1-877-469-7273 (1-877-4MYPARENT) so that we can answer your questions, absolutely free.