Steps When You Suspect Abuse of the Elderly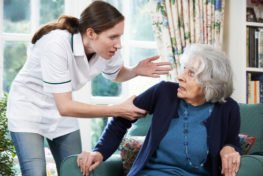 Far too often, people are left at a loss as to what steps to take when they suspect abuse of the elderly. Not looking to upset caretakers or perhaps thinking the abuse is 'just in their head,' it is sadly much easier to ignore or do nothing rather than take action. What's more, many are simply left clueless as to what steps to take when abuse of the elderly takes place.
Here are a quick three steps to consider when you believe an elderly person is being abused by a caretaker, nursing home, or stranger:
Determine the immediacy of the abuse, specifically the danger involved. If you believe the abuse of the elderly is an imminent threat to their health and wellbeing, do not hesitate to call 911! Doing so may not only save a life, it can also help in documenting the harm caused and raise immediate awareness about the problem in the eyes of professionals, public safety officials and advocates. 911 is intended to be an emergency service for when abuse can potentially lead to significant injury or worse.
If the threat or danger is not imminent but more an ongoing concern requiring action, use the National Center on Elder Abuse's state resource directory to find out who to speak with about your concerns. Doing so can help connect you with professionals in this field that can assist you in getting to the bottom of your concerns. The resource directory linked above is a great way to get advocates from within the Department of Health and Human Services involved in the matter.
If you have questions about a nursing home or care facility that your loved one lives in, or are considering different options in your area, check out our interactive map on safety records of nursing home facilities in your state. This map, which we just recently rolled out, allows for users to not only see how their state matches up on inspections and more, but also allows for you to zoom in on your local options and see how they match up against each other.
Of course, we also are here to answer questions you may have surrounding suspicions regarding abuse of the elderly. Our website is built to walk you through what elder abuse is, the forms of elder abuse possible, as well as signs and symptoms of abuse. You can also contact us through our online contact form or call us at 877-469-7273 for more information! The abuse of the elderly is a grievous act that requires swift action to stop it and effective help to try to remedy the damage caused – don't hesitate to let us know how we can help you and your family today.