What Constitutes Elder Abuse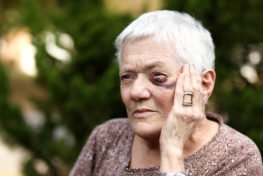 Three Basic Forms of Elder Abuse Based on Perpetrator:
Domestic Elder Abuse — Domestic abuse occurs in a person's own home, apartment or other non-institutional living arrangement. The majority of domestic elder abuse cases occur at the hands of the senior's own children. Domestic elder abuse is also perpetrated by spouse, loved ones, family members, friends or others who are charged with providing the senior's basic necessities and care.
Institutional Abuse — Institutional abuse is abuse in an institutional setting, often by contracted caretakers. These facilities include nursing homes, long-term care facilities, assisted living centers and senior housing facilities. Elder abuse in institutional settings usually derive from inadequate care, untrained or unqualified staff, unsafe or uncleanly surroundings, and/or inappropriate supervision.
Self-Neglect or Self-Abuse — Self-neglect or self-abuse is generally the cause of a senior's inability to knowingly, or unknowingly, provide for their own basic necessities, care or safety.