Michigan Environmental Injury Lawyers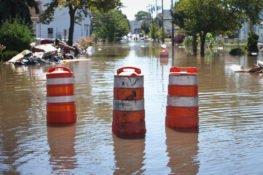 Was your health or livelihood impacted by the recent Midland flood caused by Edenville and Sanford dam failures, the Flint water contamination, or another Michigan environmental disaster? Have you experienced serious injuries or property damage because of negligence on the part of government agencies or companies that had a duty to help keep your community safe? If so, you might be entitled to significant compensation to cover the damages these negligent parties have forced you to endure.
Stern Law is committed to fighting for victims harmed by companies' and governmental agencies careless acts and the environmental catastrophes they cause. For more than 40 years, we've been helping clients across Michigan get justice and compensation after calamities like the failures in Flint's water system, and we want to do the same for you.
If you or a loved one are suffering because of someone else's wrongful or reckless actions, the environmental injury law firm of Stern Law is here for you. We can evaluate your case, help you understand your legal options, answer any questions you might have, and give you the tools and information to make the absolute best choice for you, your family, and your future.
When you hire us, you can have peace of mind that Stern Law will fight aggressively for your best interest. Our founder, Attorney Kenneth A. Stern, understands the pain and challenges that Michigan victims face when they are harmed through no fault of their own. He was raised by a single mother outside of Detroit, and Mr. Stern has a personal passion for helping make life better for hardworking Michiganders and their families.
Who is Liable in an Environmental Accident in Michigan?
Many different parties might be liable when an accident causes significant environmental damage in a community and injures area residents. Depending on the details of the case, some of the responsible parties might include government agencies, negligent companies, or reckless individuals.
Unfortunately, environmental accidents are some of the most complex cases because many different laws cover these types of disasters. Victims often feel overwhelmed trying to sort through these confusing regulations and might even give up, thinking it will be impossible for them to get justice for their environmentally related damages.
However, victims aren't alone in their fight. Environmental injury lawyers are a vital resource for victims. They have the knowledge it takes to help victims sort through the circumstances of their case, determine all the parties that might be responsible for their injuries, and gather the evidence needed to prove the cause and severity of the damages they've suffered. 
What Compensation Could I Receive for a Michigan Environmental Injury?
The types of compensation available for victims impacted by environmental accidents typically helps cover things like:
Property damage
Lost wages
Medical expenses
Pain and suffering
It's critical for victims of Michigan environmental disasters to pursue compensation for both current and future expenses. The severity of victims' injuries and the volume of expenses that they'll have to face often aren't immediately obvious. Even if compensation covers all of a victims' current medical bills, they might end up having to pay for hefty losses out-of-pocket if their injuries become chronic or lead to other significant damages in the future.
Additionally, it's vital for victims of environmental accidents to pursue compensation as soon as possible. According to Michigan's statute of limitations laws, victims typically have a limited time from the date of their injury to serve the State of Michigan with notice and to file an environmental claim. After this deadline, victims usually cannot sue to recover compensation, making it critical to contact a Michigan environmental injury lawyer as soon as possible when disaster strikes.
Environmental claims are some of the most complicated types of legal actions because it's often difficult to pinpoint exactly when the injury occurred and when victims knew or should have known about their injuries. This is why it's critical to consult an experienced Michigan environmental injury lawyer for these types of claims. They can help you understand which timeline applies to your circumstances and help you fight for the compensation you're owed.
Common Causes of Environmental Accidents
Environmental law covers a broad range of accidents, events, and negligence, as well as the resulting injuries, such as:
Plant explosions and nuclear accidents
Exposure to harmful substances like asbestos, benzene, beryllium, and carcinogenic substances in the air and other environments at home, work, or in public places
Lead poisoning through pipes, paint, and other outdated systems
Improperly built or maintained dams, power plants, and other infrastructure
Groundwater, aquifer, water supply, and soil contaminated by chemical spills, commercial use of insecticides, and toxic substance dumping
Biological hazards caused by industrial accidents or train derailments
Toxic pollution from garbage, sewage, emissions, ash, dust, fumes, glass fibers, or other harmful waste materials that invade public spaces
Leaks from damaged or improperly maintained underground storage tanks and oil wells
Toxic mold ignored by careless building owners and managers
Oil spills and improper disposal of fuels
Property damages caused by improper routing, corporate practices like careless fracking, or illegal construction
Types of Michigan Environmental Injuries
A wide variety of injuries and conditions can result from environmental accidents in Michigan caused by wrongdoing and recklessness, including:
Lung cancer, mesothelioma, liver cancer, throat cancer, and other cancers
Headaches
Birth defects
Elevated blood pressure and other serious heart conditions
Gastrointestinal issues
Kidney damage
Rashes
Miscarriage
Infertility
Confusion
Dizziness
Coma
Vomiting or nausea
In the most serious environmental cases, victims might die from their injuries or completely lose their home and other property.
Talk to a Michigan Environmental Accident Attorney Today
If you or a loved one have been harmed by an environmental accident, contact Stern Law immediately. Don't wait until it's too late to get the compensation and justice you deserve. Contact us today, through our online form by calling (800) 462-5772, to schedule your consultation.