JUUL E-Cigarette, Vapor Product Lawsuits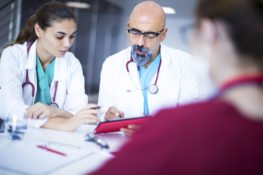 Are you suffering from an illness or injury after using JUUL? If so, you might be able to file a lawsuit against the manufacturer with the help of Stern Law.
The makers of JUUL marketed their product as a "safe alternative" to smoking cigarettes. Many individuals are now suffering from serious health problems after using JUUL products. Others died as a result of illnesses related to using the popular e-cigarette.
You deserve financial compensation for any losses you incurred as a result of this company's negligence. The manufacturer of JUUL spent a lot of effort in marketing the product as safer than smoking. However, it failed to warn consumers of its dangers. Now, thousands of adults and teenagers are addicted to the e-cigarette and experiencing adverse reactions.
If your health has been impacted by your use of JUUL products, the attorneys at Stern Law strongly believe that you deserve justice as well as compensation for your losses, and pain and suffering. We have the experience, qualifications, and resources to win your case. And if we don't, you won't owe us a thing. Call us at (844) 808-7529 today to schedule your free consultation.
What Is JUUL?
JUUL is a small e-cigarette manufactured by JUUL Labs. It gained popularity because of its compact size and range of flavor options. Contrary to JUUL Labs' marketing that their product is much safer than smoking, studies have shown the risks associated are similar to those of cigarettes.
Researchers discovered a range of serious health issues e-cigarette users can develop. E-cigarettes became popular recently as an alternative to smoking. People who smoked cigarettes but wanted to quit ended up turning to JUUL and other e-cigarettes as a way of weaning themselves off of nicotine. However, the chemicals used in JUUL are addictive and highly toxic. Instead of quitting smoking altogether, many ended up trading one bad habit for another and suffered a range of symptoms.
The popularity of JUUL grew over the years because of the manufacturer's aggressive marketing campaigns through social media. Young adults and youths responded positively to those campaigns and fell for the company's deceitful tactics to gain consumers.
Risks Associated with JUUL
There are a variety of factors that contribute to JUUL's ability to become the most popular brand of e-cigarette on the market. The advertisements telling consumers that JUUL is healthy and a safe alternative to smoking cigarettes is misleading and deceptive.
Through multiple social media campaigns, JUUL Labs was able to convince the public that their product could help people quit smoking and provide a healthier and safer option. However, studies have shown that the chemical flavorings and additives can actually lead to severe lung damage worse than traditional cigarettes cause.
The most common side effects those who use JUUL experience include:
Addiction
Heart attack or heart problems
Cardiovascular disease
Nicotine poisoning
Mental health or behavioral issues
Lung or respiratory failure
Seizures
Stroke
Suicidal thoughts or attempts
Pregnancy complications
Popcorn lung is also a considerable risk associated with e-cigarettes, which develops from inhaling the vapors of a chemical called diacetyl. When popcorn lung develops, you experience difficulty breathing, dry cough, and wheezing. If you don't seek treatment, it could be fatal.
JUUL maintains that its products are free of diacetyl. However, researchers are still studying the possibility of a link between JUUL products and serious lung illnesses resulting from the chemicals in the product.
Important Facts About JUUL
If you have used, or are using, JUUL products, it's important to be aware of important research and facts about the popular e-cigarette products:
Despite JUUL's marketing, e-cigarettes are not safer or healthier than traditional cigarettes. Pods contain nicotine equivalent to an entire pack of cigarettes.
The nicotine found in JUUL is higher than in many other e-cigarette brands.
JUUL can cause life-threatening health issues and aggressive, life-long medical problems.
Those with respiratory illnesses are at a higher risk of developing medical conditions using JUUL.
You don't have to use JUUL for months or years before experiencing symptoms of illness. Some people go into full respiratory failure just weeks after starting to use e-cigarettes.
Holding JUUL Labs Responsible for Their False Marketing
E-cigarette manufacturers, like JUUL Labs, advertise their products as being safe and free from the same harmful chemicals you can find in cigarettes. However, most e-cigarette companies fail to warn consumers about the harmful effects of chemicals found in their products.
You can file a lawsuit against the makers of JUUL to receive financial compensation for your losses. The type of case you would pursue falls under the category of products liability. The first step you should take is to quit using JUUL immediately. If you suffered any type of injury or developed an illness, you need to mitigate your damages as best as possible.
Evidence is crucial in any lawsuit. You'll need to gather as much evidence as you can find that proves your JUUL use led to certain medical conditions. Keep detailed notes of your history using JUUL, the progression of health problems, and any additional information you believe will help your case. You should also find the following:
Receipts or bank statements showing your purchase of JUUL pods and e-liquids
Photos or videos showing you used JUUL
Medical records proving symptoms or a diagnosis associated with e-cigarette use
Witnesses to your suffering because of your JUUL use
It's also necessary to base your products liability case on one of three elements: negligence, strict liability, or breach of warranty.
Negligence:
JUUL Labs owed you a reasonable duty of care;
The manufacturer breached that duty of care by acting or failing to act in a certain way to prevent harm;
The company's action or inaction caused your health problem; and
As a result, you developed a medical condition that led to damages.
Strict Liability:
The JUUL contained a dangerous defect that caused your symptoms;
You developed medical issues while using the e-cigarette for its intended use; or
After purchasing the product, the condition of it didn't substantially change.
Breach of Warranty: A breach of warranty occurs if the seller of a product fails to meet specific standards. A warranty may be an express warranty or an implied warranty.
Express Warranty: A statement made orally or in writing regarding a product's ability to meet certain standards and contains specified characteristics.
JUUL made an express warranty;
You relied on that warranty;
The product you used didn't meet the express warranty;
The e-cigarette didn't fulfill the express warranty when it left the control of JUUL Labs; and
The company's failure to comply with its express warranty caused your medical condition.
Implied Warranty:
The product wasn't fit for its use or purpose, or any use foreseeable by the manufacturer;
The product wasn't fit for its intended purpose or use, or a use foreseeable by the manufacturer at the time it left the manufacturer's control; and
The breach of implied warranty directly contributed to your development of a JUUL-related medical problem or disease.
Your attorney will thoroughly investigate your case and determine the best course of action to enable you to receive the maximum compensation you're owed.
Determining the Value of Your Case
Your attorney will help you review the details of your case to determine how much compensation you deserve. You'll need to consider the following factors:
The severity of your health problem
Type and duration of the necessary treatment to recover
Permanent medical conditions requiring lifelong treatment
Time spent away from work
Total costs associated with your diagnosis
Effect of your medical issues on your daily routine, job, and relationships
In any lawsuit, you could pursue a financial award that covers your damages resulting from an injury or illness. The damages in a products liability case you can claim for compensation may include, but not be limited to:
Medical expenses
Physical pain
Emotional distress
Lost wages
Lost future earning potential
Actual expenses and intangible losses are called compensatory damages. They aim to reimburse you for your total costs and suffering endured as a result of your JUUL-related health problem.
Choose Stern Law to Help You with Your JUUL Lawsuit
Contact Stern Law to discuss your options to recover compensation in a JUUL lawsuit. We believe in seeking justice for our clients and holding parties responsible for their careless actions. It's devastating for anyone to feel misled by a company they thought they could trust. When you hire us, we will fight for your rights and try to win the maximum financial award available.
Our legal professionals have the experience and skills you can depend on. We know this is a difficult time in your life, and we'll always make your case a priority. We'll provide you with the advice you need throughout your case and let you know all the legal options available.
At Stern Law, we understand the importance of recovering full and fair compensation promptly. We'll work diligently on your case to ensure it doesn't drag out unnecessarily. We know you want to put this devastating experience behind you as soon as possible. Call us at (844) 808-7529 to file your JUUL lawsuit and get the compensation and justice owed to you.