Nursing Home Safety by the Numbers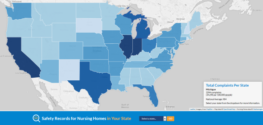 A lot of people have opinions on a place like a restaurant or store, but what about a nursing home? Turning to the Internet for opinions or information is a common thing to do in this era of technology. Sites like Yelp! and Google Reviews can quickly provide someone's perspective on a restaurant or business. One field that has often been shrouded in mystery, though, is the area of elderly care, specifically nursing homes. Unfortunately most people are not able to get a strong perspective on a facility until actually going there or having a loved one stay for an extended period of time. Our goal is to help provide a starting point and is the inspiration behind our dynamic mapping of U.S. elder care/nursing home facilities.
Nursing Home Safety – By the Numbers
Available here, our interactive map allows users to not only see how many substantiated nursing home complaints have occurred in their state, but also health survey scores and home care rankings on a state level. What's more, by selecting your state, you can see a dynamic map (at street level!) of facilities in your area and see how they stand up against common safety and regulatory standards.
With our new map, you can find out about a nursing home's:
Contact information
Ownership type
Health deficiency record
Fire safety record
Number of certified beds
Staffing hours per resident per day
Health Survey score
Reported incidents
Fine totals
Penalties
And more!
As you can guess, this information is based upon reported information and comes straight from Medicare.gov. This means that, unlike normal internet reviews, you are not basing your conclusions upon a jaded customer or fake reviews aimed to help one business over another. Instead, this information is based upon concrete information, required by the government, and published for the benefit of the public.
For more information about concerns involving elder abuse at a nursing home in your area, check out the map or contact us at (877)469-7273 today!