Nursing Home Abuse Compensation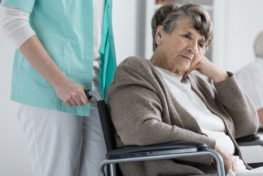 What do I do once abuse has been identified?
There are many reasons why your mother or father may have been neglected, even after your careful selection of the nursing home. If any of these conditions or situations exist, it is important to get your mom or dad into a safe place as soon as possible. A caring and compassionate firm like Stern Law, PLLC can help you do this and can get you the funds that your parent needs to get the excellent treatment to which he or she is entitled. The following may form the grounds for successful litigation:
Negligent hiring – In order to run an efficient and clean facility, a nursing home must have the appropriate number of staff with the right credentials. Medical personnel and other employees must have the proper educational background and training. In addition, there must not be anything in their background that indicates they could pose a threat to residents and other employees. If the nursing home fails to conduct the proper review of employees' credentials and history of violence then there can be a dangerous situation.
Inadequate staffing – It is critical to have the right number of staff to meet the needs of the nursing home residents. If there are not enough employees, not only will crucial tasks not be performed, including administration of medication or attending to the personal needs of residents, but the staff that is employed will be overworked, leading to bad morale and further problems.
Improper administration of medication – The fact is that many, if not all, nursing home patients will take some type of prescription drug. These medications must be administered at the right time, in the right dose, and in accordance with any special instructions. If the staff fails to do this, the resident could become seriously ill or die.
Negligent care – Although this is a broad category, it encompasses things like failing to assist a resident who has a history of eating difficulties with meals, leading to the person choking and suffering severe harm or death. In addition, a staff member may fail to care properly for a resident who is known to fall out of bed when he does not use the appropriate barriers or restraints. However, excessive use of physical or chemical (administering powerful narcotics) also may lead to resident harm.
Failure to have the proper safeguards in place – A nursing home must have protocols and procedures to protect their residents from third-parties, including other residents and visitors. Usually, there will be an escalation period before serious harm is done. If the nursing home staff does not recognize the problem or address it in the appropriate manner, then there can be severe consequences, including the death of a resident.
Breach of duty – A nursing home resident is entitled to dignity, privacy, and autonomy. If a nursing home or assisted care facility fails to deliver on these obligations, it can be held liable for the harm suffered by the resident.
The neglect and mistreatment of a parent can take many forms, including failure to meet basic needs, medication errors, negligent or intentional deprivation of food or water, verbal or physical assault, and financial mismanagement. However, what matters is that your parent is suffering because of the nursing home. The first thing to do is get him or her to a safe place. Then, it is important to contact an attorney who believes that we owe our parents the best possible care for all that they have done for us and will fight to get them compensation for the harm that they suffered.