Types of Medical Malpractice Cases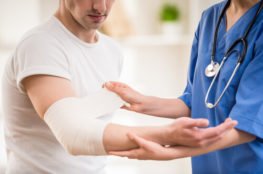 Medical malpractice occurs when a doctor, nurse, physician's aide, therapist, pharmacist, or medical facility acts or fails to act in a manner that would be considered reasonable when done by another person of similar background and training under comparable circumstances. There are many different types of medical malpractice, but some are more common than others.
Several of the most common categories of medical malpractice are:
Stern Law, PLLC Fights for Those Harmed Through a Doctor's Mistake
Medical malpractice takes many different forms, but when the mistake leads to serious, long-term harm, the victim and his or her family needs help to begin the recovery process. At Stern Law, PLLC, we know how much harm can be done when doctors and other medical professionals make serious errors. For more than 30 years, we have worked tirelessly for the benefit of our clients. In addition to representing our clients skillfully and tenaciously, we also prioritize acting as a resource for those who have been impacted by medical malpractice. We have people available to answer questions 24 hours a day, seven days a week for anyone who has a question or concern. Call us at 1-844-808-7529 or fill out an online contact form in order to learn how we can help you get through this difficult time.