Emergency Room Negligence Lawsuits and Lawyers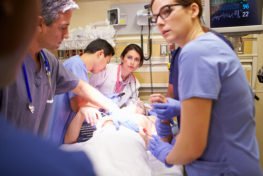 Nobody wants to face a situation where they have to go to the emergency room, but there are circumstances where this is necessary. Many medical professionals who provide care during stressful times are competent, but when a mistake is made in the emergency facility, the consequences can be devastating for the victim of the malpractice.
Emergency rooms are designed to function in the midst of chaos. However, there are many things that can go wrong in the midst of the turmoil of providing urgent care.
Some of the more common mistakes include:
Failing to properly assess the emergency nature of the case and admit the patient promptly;
Failing to assess the patient's condition after admission and intake;
Failing to monitor the progression of the patient's medical condition;
Failing to diagnose the patient's medical condition;
Delaying diagnosis of a patient's medical condition to the extent that additional harm is done;
Ordering the incorrect laboratory tests or failing to order tests that are indicated based on the patient's symptoms;
Making mistakes relating to the typing and administering of blood during transfusions;
Failing to perform the necessary care or treatment in a competent manner;
Prescribing the wrong medication;
Administering the wrong medication; or
Taking any other actions that are not in accordance with what a reasonable and competent emergency room medical professional with similar education, training, and experience would have done under the same or similar circumstances.
Although it is expected that an emergency room will be chaotic and that medical professionals are expected to perform their duties under those circumstances, there are some unique aspects of a medical malpractice case brought against a healthcare provider working in an emergency room. The medical standard of care that applies in an emergency situation takes into consideration the fact that a medical professional is going to be making decisions based on the urgency of the specific patient's condition. This may lead to a case where there is no time to consult with a patient or his or her family members or disclose particular details about the medical aid being rendered before taking a certain course of treatment, which is covered by an exception based on exigent circumstances. In addition, the healthcare provider may not be expected to consult with colleagues and experts before treating a patient, even if such consultation might have been standard under normal circumstances.
In order to prove a malpractice case, it likely will require demonstrating that even with these unique analytical requirements, the doctor, nurse, or other healthcare provider failed to satisfy the applicable medical standard of care for a medical professional providing treatment in an emergency situation. It is important to have a medical malpractice attorney who understands the nuances of emergency room cases and is very familiar with the applicable state laws that may affect how these cases are brought.
Holding a Hospital Liable for a Doctor's Malpractice
In many cases, it is very difficult to maintain a legal action against a hospital when it was a doctor who committed the actual malpractice. This is based on a number of different factors, but one of the most common is that the doctor is not actually an employee of the hospital, but rather acts as an independent contractor. This information typically must be provided to the patient, who signs off on the fact that his recourse for any mistakes is against the doctor rather than the hospital. This is different when the error or mistake happens in the emergency room.
A person who goes to an emergency room often is suffering from a serious condition that requires immediate attention. This means that he or she is not seeking the care of a specific doctor, but rather the services provided by a hospital or other urgent care facility. This makes the hospital responsible for ensuring that the healthcare providers who will care for the patient have the skills and training necessary to make the right decisions under difficult circumstances. In addition, there usually is no time to inform the patient about the fact that the doctor may be an independent contractor, which means that the hospital is not able to disclaim liability.
Other Hospital Liability Claims
In addition to liability for the negligence of a doctor or other medical professional in an emergency room, a hospital also may be liable to a patient if he fails to provide necessary treatment pursuant to the Emergency Medical Treatment and Active Labor Act (EMTALA). A hospital must not refuse to provide services to a patient unless the following conditions have been met:
Emergency room personnel have examined the patient and assessed the exigency of the medical need; and
Emergency room personnel have performed necessary actions to stabilize the patient to the extent that it is possible.
In cases where a hospital has failed to meet its burden, even when it has arranged transport to another emergency care facility rather that refused care outright, it may be liable to the person who was harmed and/or his or her family.
Stern Law, PLLC Has Spent More than 30 Years Advocating for Victims
There are many different circumstances that could necessitate a visit to the emergency room, but once a person is there, it is expected that he will receive care that satisfies the medical standard of care. When a person is severely harmed after an emergency room visit, it may be difficult to know whether or not there was malpractice. At Stern Law, PLLC, our attorney has worked for more than three decades to learn the truth about what happened to those injured by the actions of medical professionals in order to get justice for our clients. In addition to advocating for those who were harmed, we also serve as a resource, with dedicated staff available to answer questions 24 hours a day, seven days a week, for anyone who has a question or concern about medical malpractice, regardless of whether or not you are our client. Call us at 1-844-808-7529 or fill out an online contact form in order to learn how we can help you get through this difficult time.