Physical Therapist Malpractice Attorneys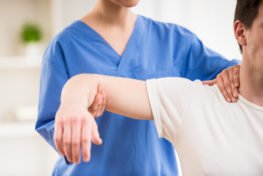 There are many different types of medical malpractice cases. Legal actions brought against doctors who make mistakes are the most common, and also the ones that people usually think about when considering medical negligence matters, but there are many other healthcare providers who can and do make serious mistakes that cause severe injury. Physical therapists fall into this category.
In order to pursue a medical malpractice case against a physical therapist, it is necessary for the physical therapist to be licensed. There are cases where a person did not confirm the licensure of a physical therapist and it turned out that the person was practicing without a license, so a medical malpractice case is not supportable. However, if a physical therapist is licensed, then he or she falls within the category of a healthcare provider against whom a medical malpractice case may be brought. It is critical to analyze whether the physical therapist breached the duty of care applicable to the practice area in order to decide if there is a basis for a medical malpractice case.
In most situations where a person avails himself or herself of the services of a physical therapist, it is after an injury or medical condition being treated by a doctor. There frequently is a referral to a physical therapist, who must take care to work with a patient to minimize the strain on various parts of the body while maximizing the benefits of physical therapy. A physical therapist may breach the applicable standard of care when he or she deviates from what a reasonable and competent physical therapist with the same education, training, and skills would have done under the same circumstances. This standard accounts for the fact that there may be improper treatment decisions based on inexperience that will not rise to the level of medical malpractice.
In order to establish the relevant standard of care, it is necessary to retain an expert who has to training and qualifications to set forth the factors that are used to establish the standard of care and then testify about how the care that was provided constituted a breach of that standard of care.
In order to prevail in a medical malpractice case, it is necessary to establish the following:
The physical therapist had a duty to provide care to the patient;
The physical therapist breached that duty by failing to adhere to the applicable standard of care;
The breach of duty was the direct and proximate cause of the harm that was suffered by the patient – this is important because there may be intervening factors, such as the patient participating in activities that caused undue strain on the injured area. The treatment provided by the physical therapist must have led to the harm that was suffered without any other actions that may have resulted in the injury; and
The breach of duty led to an injury that can be measured – it is not enough that the physical therapist made a mistake or that the mistake led to harm, that error must have resulted in harm that could be quantified and had a dollar amount assigned to it. This is the harsh reality for many people who have suffered at the hands of a medical provider when they cannot prove the harm, even though they live with it every day.
Physical therapy cases often are among the most difficult to pursue. This is because there are many nuances and unknown factors that go into the determination of a course of treatment and even if this is undertaken with care, the patient could experience no benefit, or even worse, may suffer from additional harm. If the patient is able to establish that there was a duty, that duty was breached, and the duty was the cause of the measurable harm that the patient suffered, then the patient may be able to obtain damages that reflect the financial, physical, and emotional harm that the patient suffered as a result of the malpractice. Financial costs may include medical treatment, lost wages, and miscellaneous associated costs, while the physical suffering and emotional anguish often is compensated through the award of pain and suffering damages.
Stern Law, PLLC Zealously Fights for Those Harmed Due to Medical Negligence
All medical professional are held accountable to a high standard. If you have been harmed as the result of the actions of a licensed physical therapist, then it is critical to obtain the consult of an experienced medical malpractice attorney as soon as possible. The skilled and dedicated medical malpractice attorney at Stern Law, PLLC have spent more than 30 years advocating on behalf of the victims of medical negligence. Stern Law, PLLC also provides information and resources to those who may have been the victims of medical malpractice, so we have compassionate and informed staff members available 24 hours per day, seven days per week, to answer questions, even if you are not a client. Call us at 1-844-808-7529 or fill out an online contact form in order to learn how we can help you get through this difficult time.