Military Doctor Medical Malpractice Lawsuit Attorney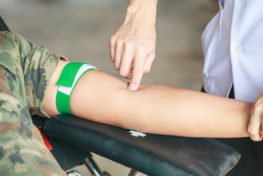 When a person places his or her trust in the hands of a doctor or other medical professional, it is important that the provider adhere to the applicable standard of care and tender the best care possible. If there is a preventable mistake that leads to harm, then most people have the option of pursuing a medical malpractice case against the wrongdoer. However, not everyone who is injured because of a medical professional's negligence has the same opportunity.
As one might expect, there are special rules that apply to men and women in the military and their ability to file and maintain a medical malpractice case against a doctor who provided treatment that fell below the relevant standard of care to a person who was sick or injured as a result of military duty. Although there are exceptions that exist, for the vast majority of military members who are injured and treated by a military doctor or in a military facility, there is no option to bring a malpractice case, even if the negligence was egregious.
There are times when it is possible to bring a successful medical malpractice case against a military doctor or facility when the patient is not a military member, such as the child or spouse of someone in the military who received negligent care from a military medical professional. It also may be possible to bring a sustainable legal action against a military doctor or military facility, such as a Veterans Affairs (VA) hospital, if the victim of the negligence is retired from the military or no longer is on active duty. In addition to these specific cases, an active duty military member may be able to bring an action for personal damages that resulted from harm to a spouse or child, such as loss of consortium, loss of companionship, or emotional distress. These cases are very fact-specific and require an attorney with experience representing service members in medical malpractice cases, such as those at Stern Law, PLLC.
Medical Malpractice Actions against Military Doctors and the Feres Doctrine
If a person who was injured as the result of medical negligence was an active duty service member at the time that the military doctor or other medical provider committed the malpractice, then the Feres Doctrine specifically precludes that person from bringing a legal action against the medical professional.
This doctrine arises out of a case in the United States Supreme Court. The case of Feres v. United States, 340 U.S. 135 (1950), led to a ruling where the Court determined that members of the military who were on active duty, and were not on furlough, could not bring suit against other members of the armed forces for injuries sustained while on duty, even if there was negligence that otherwise would be actionable. The ruling was based on the Supreme Court's interpretation of the Federal Tort Claims Act.
In addition to barring active military members from bringing a lawsuit against a military doctor or facility for malpractice, the Feres holding also determined that the spouse or children of a military member who was killed as a result of negligence of another military member could not pursue a wrongful death action under those circumstances.
There is a statute that permits a person to bring suit against a federal entity, which is the act that the Supreme Court examined in the Feres case. Although the Federal Tort Claims Act (FTCA) sets forth a fairly onerous process for a person to bring a legal action against a federal employee or an entity operating on behalf of the United States government, it is possible to do so after getting past numerous hurdles. However, the Feres case and the doctrine that arose out of the Supreme Court's holding supersedes the provisions of the FTCA for active duty military members.
Stern Law, PLLC Fights for Those Injured by Medical Negligence
Although there are circumstances under which it is not possible to get the needed compensation to move forward after serious medical malpractice, there are many other cases where a strong case may be brought against a negligent party. It is critical to examine the facts of each case as quickly as possible in order to determine what legal options may be available to victims of medical negligence. The knowledgeable attorneys at Stern Law, PLLC have spent more than 30 years honing their skills in order to get the best results possible for our clients. Stern Law, PLLC also understands the importance of getting information out to everyone who may have suffered as the result of negligence, so we have compassionate and dedicated staff members ready to act as resources for those who have questions about medical malpractice issues, no matter the time of the day or night, even for those people who are not clients. Call us at 1-844-808-7529 or fill out an online contact form in order to learn how we can help you get through this difficult time.