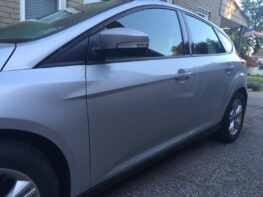 Ford's transmission problems continue with the recent filing of another class action lawsuit against the manufacturer for their much-maligned dual clutch transmission (DCT). Filed in Delaware, the DPS6 PowerShift class action lawsuit alleges that Ford transmission problems did not stop at model year 2016, which was the endpoint of a previous class action lawsuit against the manufacturer. Instead, the new claim states that 2017-19 model year Fiesta and 2017-18 model year Focus vehicles have continued to experience the same transmission issues of previous model years. While this is not news to our firm, the lawsuit was filed by the same class action law firm that settled the original troubling class action case is cause for concern. This will affect all owners of these more recent PowerShift vehicles in order to avoid being caught up in a settlement they do not agree with.
First, it is important to better understand what the DPS6 PowerShift transmission is and how it works. Essentially a manual transmission operated and controlled by a computer system, the PowerShift DCT uses a clutch and internal shift system to operate. Marketed and sold as an 'automatic,' the DPS6 PowerShift transmission relies upon shift points and computer accuracy to function properly. When the TCM (transmission control module), clutch, seals, or transmission itself fail, drivers are caught in a highly problematic situation. The failure rate of the PowerShift transmission has gone beyond a few bad models or minor manufacturing issues that can be easily resolved. Instead, our firm has alleged in lawsuits and filings that the very nature of the DPS6 PowerShift transmission is flawed and cannot be remedied through relearning or new parts. That it continued to be used by Ford is shocking, but that the newer models have since become a target of a new DPS6 PowerShift class action lawsuit is not.
Damage Caused by Transmission Defects
Hardships caused by faulty DPS6 PowerShift transmissions include, but are not limited to:
Out-of-pocket repair costs
Car rentals/alternate transportation due to transmission failure and/or repair periods
Individual stress and problems caused by inconsistent transmission performance and vehicle availability
Depreciation of value
Incurred debt when trading in the vehicle due to the defect
Problems with the DPS6 PowerShift transmission date back to when vehicles equipped with the DCT were first being sold in 2010. Those 2011 model year Fiestas had the same shuddering, hesitation, inability to accelerate and more that began appearing in 2012 model year Focus vehicles. Those issues persisted throughout the run of the Fiesta and Focus, with both vehicles eventually being discontinued after the release of the 2019 model year Fiesta.
Problems at the Heart of PowerShift Transmission Class Action and Individual Claims
Symptoms of DPS6 PowerShift transmission failure include:
Hesitation before acceleration
Shuddering/'judder'
High 'rev' when attempting to increase speed
Failure to start
Overheating
Lurching
Inability to start
Gear lockout
And more
Far too many owners of these vehicles, when experiencing these issues, have taken their vehicle into a dealership, and been denied repairs. That proves especially troublesome when the total number of repairs can be critical when making a claim for compensation in a legal setting. More importantly, though, it proves troublesome for those who simply wish to have a safe, functional vehicle. Costly out-of-pocket repairs related to the PowerShift transmission have taken a toll on current and former owners, making it even more troublesome that Ford has been less than proactive in accepting responsibility and resolving customer concerns surrounding DPS6 PowerShift transmission problems.
Cause for Litigation
What Ford knew, and when, proved critically important to consumers and the reporting media after being the target of a major news article series released by the Detroit Free Press and USA Today. That series of articles, under the heading "Out of Gear," highlighted a wide variety of discoveries in our nationwide litigation as well as the class action. That evidence included documents or testimony showing Ford had significant knowledge, and advance warning, surrounding the persistent failure of the DPS6 PowerShift transmission. If you have not already read the articles surrounding the transmission issues faced by so many Focus and Fiesta owners, you can review the series by clicking here.
It would not prove difficult to find the massive number of complaints online about the DPS6 transmission and how its persistent failures have negatively impacted owners and former owners. Similarly, anyone can discover a significant amount of criticism for the arbitration program established as part of the 'old' Ford DPS6 PowerShift class action settlement. Specifically, the arbitration program's adherence to state Lemon law to provide, essentially, all-or-nothing awards to current and former owners left far too many without any sort of financial award. A tiered effort to pay out cash damages for transmission repairs proved ineffective in undoing hardships caused by the failure of the PowerShift transmission. Where those who opted out of the class action were able to pursue damages and allege fraud as part of an individual DPS6 PowerShift claim, those who remained in the class (or were unwittingly stuck in it) could only argue restrictive state Lemon laws for a buyback or potential additional repairs.
Individual Claims Outside the PowerShift Transmission Class Action
Stern Law is widely recognized as a leading authority on litigation involving the DPS6 PowerShift transmission. Our work helping over 10,000 current and former owners of DPS6 vehicles resulted in a mass action that preserved each client's right to an individual claim and, most importantly, avoiding being stuck in a class action settlement that did not meet their needs. Our work in assisting those experiencing transmission issues also resulted in the creation of FordTransmissionProblems.com, a site that individuals nationwide visit daily for information and potential legal assistance. That the same class action law firm who had to redo their settlement due to issues of fairness raised by the California Court of Appeal is now trying to loop current and former owners of these more recent models into a second class action creates significant concern for our firm. We expect to hear from thousands of current and former owners of these newer DPS6 vehicles regarding their legal rights outside of a class settlement, but we've already spoken with many of them due to our work on older models.
Clearly, the time to act is now for those who own a 2017-19 Fiesta or 2017-18 Focus due to the filing of this DPS6 PowerShift class action case. As was the case in the previous class action, we suspect that current and former owners of these more recent models will find themselves automatically bound to the settlement's terms unless they take steps to opt themselves out. This process can be confusing and burdensome for those who wish to avoid the class action and instead file an individual claim seeking all the compensation they deserve, making our firm's assistance in the opt out process critical for so many.
If you own(ed) a 2017-19 Fiesta or 2070-18 Focus equipped with a DPS6 PowerShift transmission, contact Stern Law today to learn about your legal options and about our work in helping those like you who have experienced issues with Ford's problematic DCT.