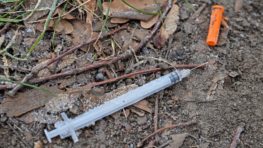 With the growing opioid epidemic, it's important for certain people to be trained to handle overdoses. While individuals like first responders, even parents or teachers, might come to mind, a surprising new profession is being expected to be prepared: librarians. The thought sounds unnecessary, but sadly that is not the case for some libraries. For one library in particular, the problem is so bad that in the past that the library had to close for three days due to needles clogging up the sewer system. This new reality demonstrates that opiates, within an ongoing timeline of tragedy, are impacting America in some of the least likely but all-the-more damaging ways.
For Philadelphia's McPherson Square Library, opioid overdoses have tragically become a regular occurrence. Daran Simon, in his article on the troubling development, notes "It (McPherson Square Library) sits in the Kensington community, where drugs and poverty lace daily life." The opioid epidemic has gotten so hard to control that the library has had to hire monitors for the bathroom to prevent people from using heroin, fentanyl and other opioids in the private space. People must now sign in, show their I.D., and are given a time limit to use the restroom.
Libraries Become Rescue Sites Amidst Opioid Epidemic
Sadly, overdoses occur so often in the library's building and the park that surrounds it that employees hired in are not only trained for the position, but trained to use the drug naloxone. Also referred to as Narcan, naloxone is an opioid antagonist that is used to reverse overdoses. Employees are fully trained to use it on civilians who have overdosed on the library's perimeters, a sad necessity amidst the current opioid epidemic. Besides the sight of a needle, employees are trained how to identify opioid abuse and how to approach the situation like a "first responder."
Chera Kowalski, a librarian at McPherson Square Library explains the need to respond as switching the mindset from "librarian to medic." Her decision to work at this specific library comes from the desire to help the people suffering from addiction amidst this opioid epidemic. Although they have been drug free for 20 years, Kowalski's parents frequently used heroin during her childhood. When it comes to heroin users, Kowalski comes from a point of understanding and approaches the opioid epidemic and issues of drug abuse with compassion. On the topic she says, "I understand where they're coming from and why they're doing it. I just keep faith and hope that one day they get the chance and the opportunity to get clean. A lot of things have to line up perfectly for people to enter recovery long-term."
Opioid Epidemic: No Clear End in Sight
Unfortunately, this opioid epidemic and ensuing crisis only seems to be getting worse. From 1999 to 2015 nationwide, drug overdoses have more than tripled. The Centers for Disease Control and Prevention reported that in 2015, 63% of the 52,000 deaths were caused by opioid overdoses. Opioids interact with opioid receptors on nerve cells in the brain and nervous system to relieve pain and create pleasurable and calming effects. These desired effects can cause addiction. According to the CDC, in 2014 nearly 2 million Americans abused or were dependent on prescription opioids.
Elvis Rosado, the education and outreach coordinator at Prevention Point, expressed that the increase or "surge" in opioid use may possibly be due to an increase in drug use or that more attention is being put on the problem. Before, people were hiding their drug use in deserted buildings, but now they are out in the open and exposing their drug use like a normal activity. This is especially evident at McPherson Square Library and its surrounding park.
With drug addiction increasing, Philadelphia leaders are taking action to curb the opioid epidemic locally. Mayor Jim Kenney has created a task force in hopes to "combat the opioid epidemic in Philadelphia." An ad campaign called "Don't Take the Risk" was created by the city's health department in the hopes to remind people that a drug isn't necessarily safe even if it's prescribed by a doctor. McPherson Square Park has also gotten more help. More patrols are available and a plan is in place to install a mobile command center. New playground, lights, and clean-up projects have been assisting to make the park a more welcoming place.
All these actions taking place, including training librarians to handle opioid overdoses and creating a task force, really sends the message that this city knows there's a massive drug addiction problem and the dangerous side-effects and harms opiates can cause is not going away on its own. If you have any questions or would like to find out more about legal support for municipalities and businesses impacted by the opioid epidemic, please call Stern Law, PLLC, at (844) 808-7529 or contact us through our website today.