Taxicab Accidents & Filing a Lawsuit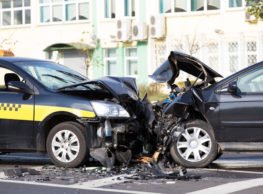 Introduction to Taxicab Accidents, Lawsuits and Lawyers
The taxicab plays an integral role in helping people get from one location to another, especially in crowded metropolitan areas. Imagine New York City or Las Vegas without their fleets of taxicabs available to help those who do not have a vehicle – or those who choose not to have a vehicle – to traverse the city. Many individuals might think that taxi cab drivers are "professionals" and, as such, are a safe travel option. While many cab drivers take their responsibilities seriously and strive to deliver their passengers to their destination safely, this is not true of all cab drivers (unfortunately). In fact, some cab drivers operate their taxi cabs in a reckless or careless manner. When these cab drivers get into accidents that result in injuries to their passengers, what rights do these passengers have?
Determining Fault in a Taxicab Accident
Fault is always a relevant concern in any car accident case, but determining who is responsible for a taxicab crash is especially important. If the taxicab driver is determined to have caused or contributed to the crash, then the taxicab driver may be sued by the injured passenger. Oftentimes, though, the taxicab driver has insufficient resources to adequately compensate the injured passenger, and the injured passenger must look at whether the taxicab driver's employer can be held responsible, too.
Under the legal doctrine of respondeat superior, employers can be held responsible for the negligent or reckless actions of their employees if their employees injured another person while performing their job duties. Employers have a duty to properly train their employees on how the employees can complete their job duties safely. Not only this, but they must adequately supervise their employees throughout the course of the employee's employment.
Taxicab companies may be held responsible for the injuries one of their drivers causes if:
The taxicab company hired the driver knowing that he or she had a history of causing accidents or driving in a careless manner. The taxicab company may also be liable if they should have known about a driver's careless driving habits (i.e., if the company failed to perform a routine check of the driver's driving record before hiring the driver, for example).
The taxicab company provided no policies or directions to the driver as to how he or she was to operate the taxicab while on duty. At the very least, a taxicab company should inform its drivers that they are expected to obey all traffic laws and drive in a conservative, defensive manner.
The taxicab company failed to take appropriate action after learning that one of their employees caused an accident or drove in a negligent manner. For example, a driver who was ticketed for speeding or driving recklessly may need to be sent to remedial driving school or be suspended. In other words, a company may not simply look the other way if they become aware that a driver is not driving in a professional and reasonably safe manner.
Special Considerations in Taxicab Accidents
When an injury victim goes up against a taxicab driver and/or taxicab company after suffering injuries in a crash, he or she must be prepared to deal with that driver's and company's attorney(s) and insurance company. These individuals and entities will attempt to settle the victim's claim for as little money as possible, especially if the attorney(s) and insurance company believe the victim may be entitled to compensation. Any proposed settlement is likely to favor the taxicab company's interests, so it is important to have any settlement offer reviewed by an experienced taxicab accident lawyer before accepting such an offer. You can easily waive important legal rights by accepting a settlement.
Not only this, but the company's attorney(s) and insurance companies may investigate the role the negligent behavior of the victim played in contributing to his or her own injuries. If such behavior is found to be a contributing factor, the company's attorney(s) and insurance company will use this information to limit the amount of compensation the victim receives. To avoid this, passengers should take reasonable safety precautions when riding in a taxicab, such as using any seatbelts or restraint systems available, remaining seated throughout the ride, and not distracting the driver.
How an Experienced Taxicab Attorney Can Help
If you do find yourself injured in a taxicab accident, do not wait for the company to offer you a settlement. Obtain medical treatment for your injuries and then contact Stern Law, PLLC at (844) 808-7529 for further assistance. We will help you take the necessary legal steps and actions to preserve your rights so you can focus your attention on your injuries and returning to your life. Where a taxicab driver's reckless or careless behavior is to blame for your injuries, Stern Law, PLLC will work hard to hold the driver and company accountable for the driver's actions.