Necrotizing Enterocolitis Risks Relating to Baby Formula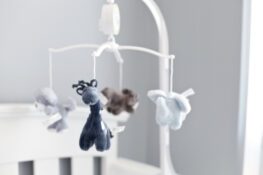 If you fed your baby Similac or Enfamil baby formula, and your baby developed necrotizing enterocolitis (NEC), contact Stern Law, PLLC, right now. We can review the facts of your case and determine whether you're entitled to compensation from the manufacturer for the damages, trauma and more this situation has caused your family.
NEC is a serious disease of the intestine. It develops from an injury or inflammation of the small or large intestine. Tissue death can occur, and the intestinal wall could suffer perforation. This can cause waste and bacteria to leak into the abdomen, resulting in a severe infection.
At Stern Law, PLLC, we know how traumatic it can be to watch your baby suffer. The baby formula manufacturers didn't warn about the dangers of feeding bovine-based formulas to premature infants. Many parents and their doctors weren't aware of the risk of NEC. As a result, many newborns faced adverse effects of a product deemed safe by Abbott Laboratories, Inc. and Mead Johnson Nutrition.
You deserve the opportunity to hold the manufacturers liable for their actions. Stern Law, PLLC, could represent you in your case to pursue the compensation you deserve. Call us at (844) 808-7529 today for a free consultation to determine whether you're eligible to participate in a mass tort lawsuit.
Common Symptoms of Necrotizing Enterocolitis
NEC is a rare intestinal disease but typically occurs in premature infants. Most cases involve babies born before 32 weeks of gestation. However, full-term infants could also suffer from the condition. It often develops within the first two to four weeks after birth.
The most common necrotizing enterocolitis (NEC) symptoms include:
Slowed heart rate
Lethargy
Hypotension
Red, tender, or swollen belly
Apnea
Food staying in the stomach longer than expected
Constipation
Unstable or low body temperature
Dark or bloody stool and diarrhea
Vomit that can contain bile
Trouble feeding
Without prompt and adequate treatment, necrotizing enterocolitis could lead to a range of complications, including:
Intestinal stricture – An intestinal stricture refers to a narrowing of part of the intestine. Food can't pass through as easily, and surgery may be required to open the narrowed area.
Short bowel syndrome – Newborns affected by NEC face challenges absorbing fluids and nutrients due to the damaged small intestine. Tube feedings might be necessary for growth, so the baby can receive adequate nutrition.
Abdominal infection – A perforated intestinal wall could occur in some premature babies suffering from NEC. Bacteria can enter the abdominal cavity through the hole, resulting in peritonitis. Peritonitis is a serious abdominal infection and can increase the baby's risk of sepsis.
Issues with development and growth – If an infant requires surgery, they could experience long-term complications associated with growth and development. Under these circumstances, poor neurodevelopmental outcomes, growth failure, and developmental delays are common.
How to Treat Necrotizing Enterocolitis in Babies
Various factors will determine the most effective treatment option for an infant with NEC. The extent of the disease's progression and how premature the birth was are common factors used to determine how to treat the condition.
The most common necrotizing enterocolitis treatments include:
Stop oral or tube feedings
Maintain nourishment and hydration with IV fluids
Insert a tube through the nose and stomach to keep the stomach empty and remove fluids
Administer antibiotics to treat infections
Take X-rays regularly to monitor the disease
Place the baby on a breathing machine or provide extra oxygen if they have difficulty breathing independently
Typically, the infection goes away after five to seven days with proper treatment. Feedings can begin again once the infection is gone. However, surgery might be necessary if NEC causes an intestinal perforation or the recommended treatment doesn't improve symptoms. The surgeon can remove the ruptured parts of the intestine and dead tissue during the procedure to prevent further damage.
Baby Formula Associated with Necrotizing Enterocolitis
Abbott Laboratories, Inc. and Mead Johnson Nutrition failed to provide adequate warning labels on their baby formula products. Instead of disclosing the possible risk of NEC in premature infants, the manufacturers chose not to advise consumers about the dangers.
You could pursue a mass tort lawsuit if your baby developed necrotizing enterocolitis after consuming any of the formulas below:
Abbott Laboratories Similac Formula
Similac Human Milk Fortifier
Similac NeoSure
Similac Special Care 20
Similac Special Care 24
Similac Special Care 24 High Protein
Similac Special Care 30
Similac Liquid Protein Fortifier
Similac Human Mil Fortifier Hydrolyzed Protein Concentrated Liquid
Similac Alimentum Expert Care
Mead Johnson Enfamil Formula
Enfamil 24 Cal Infant Formula
Enfamil NeoPro EnfaCare Infant Formula
Enfamil Premature Infant Formula 20 Cal with Iron
Enfamil Premature Infant Formula 24 Cal with Iron
Enfamil 24 Cal Infant Formula
Enfamil Premature Infant Formula 30 Cal with Iron
Enfamil Human Milk Fortifier
Compensation in a Necrotizing Enterocolitis Mass Tort Lawsuit
You might be entitled to compensation from the negligent Similac or Enfamil baby formula manufacturer if your baby developed NEC. The compensation you receive in a mass tort case could compensate for various losses, such as:
Lost wages
Lost earning capacity
Out-of-pocket expenses
Medical bills
Pain and suffering
Emotional distress
Diminished quality of life
A mass tort lawsuit differs from a typical civil lawsuit. Instead of pursuing legal action as an individual, multiple plaintiffs consolidate their lawsuits against the same defendant. You won't receive equal shares of the financial award but individual amounts based on the unique circumstances of your case.
Contact Our Firm Today!
Stern Law, PLLC, has over 30 years of experience representing clients in mass tort lawsuits. We know the laws and legal procedures involved in these types of cases. We will use our knowledge and resources to create an effective legal strategy and try to reach your desired result. You can count on our legal team to fight by your side for the justice you deserve.
Our mass tort lawyers believe in holding companies accountable for the harm they cause. You and your baby suffered due to the manufacturer's actions. You deserve to pursue the maximum available compensation to cover your baby's medical bills and other incurred costs and we are here to help.
If your baby developed necrotizing enterocolitis after consuming Enfamil or Similac baby formula, do not hesitate to contact Stern Law, PLLC. We're available 24/7 to speak with you about your case and determine whether we can represent you. Call us now at (844) 808-7529 for a free consultation.