GM Defective Ignition Switch Lawsuits Can Move Forward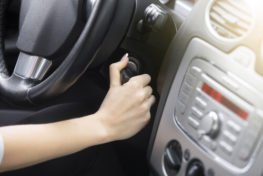 General Motors (GM) has been in the headlines since 2014 when the news initially broke that deaths had been caused by defective ignition switches present in some GM vehicles. These defective ignition switches could cause dangerous problems for drivers, including:
Loss of power steering while driving, making the vehicle more difficult to maneuver and control;
Loss of engine power while driving; and/or
Deactivation of airbags, resulting in the vehicle's airbags not deploying in the event of a crash.
Even though GM initiated recalls for vehicles determined to have been assembled with the defective ignition switch assembly in 2014, GM acknowledged that it knew of the dangers of these faulty ignition switches for approximately ten years before the first recall was issued. Lawsuits have been filed against GM by individuals who have been injured in a car accident caused by this dangerous defect in their GM vehicle.
GM Defective Ignition Switches Overview
GM issued the first recall for approximately 1.4 million Chevrolet HHR, Pontiac Solstice, Saturn Ion, Saturn Sky, Chevrolet Cobalt, and Pontiac G5 passenger vehicles in February of 2014. Approximately two months later, in late March 2014, GM expanded its recall to include 1.5 million additional vehicles. GM further expanded its recall in May 2014 to include an additional 2.7 million cars, and expanded the recall again in June to include 11.85 million additional cars. By the time GM stopped issuing recalls in 2014, approximately 30 million vehicles had been encompassed.
Information and investigations revealed that the "switch detent plunger," a component part of the ignition switch assembly designed to provide sufficient torque to keep the ignition switch from unintentionally shutting off, did not provide the requisite torque to accomplish its function. Because of this, affected GM ignition switches could turn off accidentally and unexpectedly, thereby disabling the vehicle's airbag system and causing a loss of power steering and/or power brakes.
Damages and Death Related to GM Faulty Ignition Switches
There have been many injuries and deaths related to faulty GM ignition switches. Although GM initially indicated that 13 deaths and 31 crashes were caused by defective ignition switches, since then GM, as well as news outlet like Reuters, have found that the death toll from these faulty ignition switches is at least 124. At least twice as many individuals have been injured in car accidents caused by these defective ignition switches.
Individuals who have been injured in car crashes caused by a defective GM ignition switch may be able to file a claim for damages against the auto manufacturer. In addition, surviving family members of deceased passengers or drivers whose death is linked to a defective GM ignition switch may also be able to bring a claim against GM and obtain financial compensation.
GM Cannot Use Bankruptcy to Defeat Ignition Switch Injury Claims
In a recent win for GM defective ignition switch injury victims and their families, the federal Second Circuit Court of Appeals ruled that GM could not use its 2009 bankruptcy as a means of defeating claims from injured drivers or the families of deceased drivers relating to faulty ignition switches. As part of its bankruptcy case, the company emerging from bankruptcy (referred to as "New GM") would be indemnified against many claims against "Old GM." A federal bankruptcy judge initially held that GM's bankruptcy filing prevented injury and death victims who had a claim for damages that could have been filed against "Old GM" from asserting that claim against the post-bankruptcy company "New GM."
The Second Circuit Court of Appeals overruled the bankruptcy judge's holding and found that because GM knew about the problems with its ignition switches at the time it filed for bankruptcy in 2009 but failed to disclose this information to consumers or to the bankruptcy court, GM denied any claimants the opportunity to challenge the bankruptcy or its provisions. As a result, the Second Circuit concluded, GM may not now use bankruptcy as a way to dismiss valid claims for damages against the company.
An Experienced GM Defective Ignition Switch Attorney Can Help You
If you or a loved one has been injured or killed in a car accident caused by a faulty ignition switch installed in a GM vehicle, you may be entitled to financial compensation from GM. According to the Chicago Tribune, however, approximately nine out of every ten claims submitted directly to GM are rejected. What is more, compensation obtained through a mass tort lawsuit (several of which are pending) may not be sufficient to adequately compensate victims for their losses. An experienced and dedicated attorney familiar with the GM defective ignition switch system can help you present your case and obtain compensation from GM.
Contact Stern Law, PLLC Today for Assistance
If you believe a faulty GM ignition switch caused you or your loved one's injuries or death, do not delay. Contact defective auto attorney Ken Stern and Stern Law, PLLC today by calling (844) 808-7529 or complete the firm's online contact form to schedule your free case evaluation.