Honda Takata Exploding Airbags Lawsuits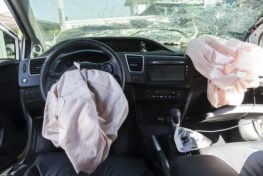 Drivers and passengers rely on seatbelts and airbags to provide vital protection during a motor vehicle accident. Unfortunately, defective Takata air bags have caused severe injuries and fatalities during deployment by propelling shrapnel at vehicle occupants. While the massive Takata airbag recalls extend to sixty million vehicles manufactured by fourteen automakers, recent laboratory testing has raised particular alarm regarding older Honda and Acura vehicles. A recent urgent safety notice from federal regulators has indicated that 300,000 older Honda and Acura vehicles pose an unacceptably high risk of the airbag exploding and that the airbags need to be replaced immediately.
Free Confidential Case Evaluation: If you or a loved one has suffered a serious injury because of a defective airbag, we invite you to contact Stern Law, PLLC immediately by calling 844-808-7529. You may be entitled to financial compensation for your injuries and other losses, and attorney Ken Stern can explain your legal rights and options.
New Urgent Safety Notice Advises Vehicle Owners to Have Airbags Replaced Immediately
The recent urgent safety bulletin from federal safety regulators advises owners of 300,000 owners of Honda and Acura vehicles that they should immediately cease driving their vehicle until the airbags have been replaced. New tests conducted on the airbags of the vehicles identified by the National Highway Traffic Safety Administration (NHTSA) reveal that the airbags have a fifty percent chance of exploding during deployment compared to a one percent chance for airbags in other vehicles.
This new safety bulletin from federal safety regulators increases the urgency involved in the Takata airbag recall involving Honda and Acura vehicles. Exploding airbags manufactured by Takata have caused 14 fatalities and over a hundred deaths according to media reports. The risk to vehicle occupants has been attributed to issues with the propellant that inflates the airbags. When the propellant degrades, it can cause the metal inflator housing to rupture and propel metal shards at vehicle occupants.
The older vehicles that the NHTSA has indicated should be repaired immediately include:
2003 Honda Pilot
2002 Honda CR-V
2001-2002 Honda Accord
2003 Acura CL
2001-2002 Honda Civic
2002 Honda Odyssey
2002-2003 Honda Acura TL
Honda Recall of Vehicles Equipped with Takata Airbags
The full list of Honda vehicles subject to recall for exploding Takata airbags include:
2008-2011 Honda Accord
2009-2011 Acura TSX
2003-2011 Honda Element
2003-2006 Acura MDX
2007-2011 Honda Fit
2006-2011 Honda Ridgeline
2010-2011 Honda Accord Crosstour
2005-2011 Honda CR-V
2005-2011 Acura RL
2003-2011 Honda Pilot
2010-2011 Honda FCX Clarity
2009-2011 Acura ZDX
2002-2004 Honda Odyssey
2006-2011 Honda Civic
2010-2011 Honda Insight
The recall summary issued by the NHTSA indicates that inflators may rupture during airbag deployment due to propellant degradation. The rupture can result in metal fragments striking vehicle occupants. The summary also indicates that long-term exposure to temperature cycling and humidity increase the risk. However, Sens. Richard Blumenthal (D-Conn) and Ed Markey (D-Mass) have criticized the NHTSA's handling of the Takata airbag issue. They have called on the agency to issue a national recall rather than limiting the geographic reach of the recall based on humidity and climate.
Injuries and Fatalities Caused by Takata Airbags
Honda has confirmed nine deaths and over a hundred injuries caused by the front inflator rupturing in vehicles covered by Honda recalls before the recent safety bulletin involving older vehicles. Many others face this risk given that the original Honda safety warning covered 4.7 million vehicles, and the second warning covered another 7.8 million vehicles. Honda has sent nearly 24 million recall notices by mail or email related to the Takata defective inflator recall.
Serious Injuries Caused by Defective Airbags
Stern Law, PLLC represents clients who experience serious injury or wrongful death because of defective Nissan airbags, including the following:
Paraplegia and Quadriplegia
Impaired Vision/Loss of Vision
Broken bones and fractures
Internal Organ Damage
Brain damage/traumatic brain injuries (TBIs)
Wrongful Death
Evidence of Slow Response to Danger Posed by Takata Airbags
According to a complaint filed in a lawsuit related to Takata airbag defects, the company knew of the defective airbag issue thirteen years ago when it received a report of an exploding airbag but failed to take action. The complaint in the same lawsuit alleges that Honda knew of the Takata airbag issue in 2004 when the airbag in a Honda Accord in Alabama exploded. The driver of the vehicle suffered severe injury from shrapnel propelled by the airbag. The complaint further alleges that the incident was dismissed as an "anomaly" that did not spur further investigation, the involvement of federal regulators, or recalls by the company.
Contact Stern Law, PLLC for a Free Honda Takata Airbag Lawsuit Case Evaluation
While the outcomes of Honda defective airbag cases will vary depending on the unique facts and circumstances, defective airbag lawyer Ken Stern diligently strives to obtain the fullest recovery for individuals who have suffered serious injuries or wrongful death. We invite you to contact Stern Law, PLLC at 844-808-7529 or complete an online contract form for a free case evaluation.