Overview of (Low-T) Low Testosterone Drugs and Therapies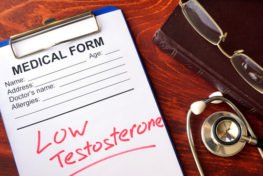 Pharmaceutical companies have been aggressively marketing testosterone therapies like pills, gels, creams, patches, injections, and other treatments for age-related symptoms that include diminished sex drive, energy level, libido, and strength. Because of this aggressive direct-to-consumer advertising strategy employed by manufacturers of testosterone products, sales of testosterone therapies tripled between 2001 and 2011. Despite the widespread use of testosterone for lifestyle issues, these medical products have only been approved for hypogonadism. Thousands of lawsuits are currently pending by victims who allege they suffered serious heart-related events after testosterone therapy. Our compassionate and understanding Low-T injury lawyer at Stern Law, PLLC work diligently to obtain the fullest compensation for our clients while holding pharmaceutical companies accountable for the injuries and fatalities their drugs cause.
Diminished testosterone levels (often referred to as "Low-T") can be caused by hypogonadism, which is a medical condition involving failure of the testes, or simply aging. Many men experience diminished testosterone levels as they get older. This change is a normal part of the aging process rather than a medical condition requiring treatment. However, pharmaceutical companies inspired by the sales of Viagra and related erectile dysfunction products promoted testosterone for age-related declines in testosterone levels.
Why Testosterone Therapies Pose a Risk of Serious Complications
Testosterone drugs in all forms that include testosterone pills, testosterone gels or creams, testosterone injections, and testosterone pellets have been linked to an increased risk of serious cardiac events and blood clots. Scientific studies and adverse event reports to the FDA indicate a connection between testosterone therapy and serious medical conditions that include:
Heart Attack
Stroke
Deep Vein Thrombosis (DVT)
Pulmonary Embolism
Blood Clots
Sudden Death
Call Stern Law, PLLC today at (844) 808-7529 or submit an online form for your free case evaluation.
Studies suggest that the risk of cardiovascular problems caused by the use of Low-T drugs is higher among men over the age of 65 and younger men with pre-existing cardiac issues.
Our defective pharmaceutical law firm is currently investigating Low-T drug lawsuits related to the following drugs:
AndroGel®
Axiron®
AndroDerm®
Testim®
Striant®
Foresta®
Delatestryl®
Testopel®
Depo-Testosterone®
Other Testosterone Therapies
FDA Actions & Testosterone Recalls
While the FDA has recognized the link between serious cardiovascular events and the use of testosterone, the federal agency has not issued a recall of any testosterone products. Based on the results of multiple scientific studies published in 2013 and 2014, the FDA established an Advisory Panel in September 2014 that recommended testosterone products not be used by men experiencing normal age-related declines in testosterone levels. The advisors also indicated a need for more studies and clinical trials.
The FDA issued a drug safety communication in March 2015 mandating that drug manufacturers provide information about cardiovascular risks associated with testosterone treatments and also requiring further clinical trials. Manufacturers were required to provide warnings on the labeling of testosterone products advising of an increased risk of heart attack and stroke. The agency also required the labeling to indicate the drugs were only approved for hypogonadism after verification with medical tests.
Scientific Evidence Indicating a Link between Testosterone and Serious Cardiac Issues
The FDA labeling change in March 2015 was predicated on the results of two separate studies.
Journal of American Medical Association (JAMA) (November 2013): The journal published a study indicating that men with certain types of medical problems were exposed to a 29 percent increased risk of heart attack or stroke when using testosterone products.
PLOS ONE (January 2014): A study published in the medical journal indicated that men undergoing testosterone therapy who were over age 65 or younger men suffering from prior heart disease were exposed to a two-fold increased risk of a heart attack.
The link between testosterone therapy and serious cardiovascular disorders suggested by these studies is even more disturbing because respected medical professionals have questioned the therapeutic benefits of low-T therapy. As early as 2013, Dr. Adriane Fugh-Berman of Georgetown University Medical Center indicated that testosterone therapy does not offer medical benefits for age-related declines in virility, sex drive, or energy in otherwise healthy men.
Status of Low-T Lawsuits
Approximately 1,000 lawsuits pending in federal court have been consolidated into a federal testosterone multi-district litigation (MDL) before District Judge Matthew F. Kennelly in the Northern District of Illinois. Although this litigation is frequently referred to as a low testosterone mass tort lawsuit, each case will remain a separate and distinct legal claim. Each plaintiff must prove a specific testosterone drug caused their adverse cardiac event and that the manufacturer failed to provide adequate warnings. Because each plaintiff will experience different consequences, the lawsuits cannot be pursued through a single class representative. The litigation is still in relatively early stages with "bellwether" trials involving Androgel® lawsuits expected to move forward in late 2016, and those involving Axiron®, Testim®, AndroDerm®, and other low-T drugs might begin in 2017. The outcome of these bellwether trials will promote settlement discussions for remaining claims.
Testosterone drug injury lawsuits also are pending in state courts across the U.S. Our low-testosterone injury attorney at Stern Law, PLLC represent clients with defective drug claims in both federal and state court.
Some of the allegations pending in the federal testosterone MDL and state lawsuits over cardiovascular events include:
Drug companies placed profits over public safety.
Manufacturers used reckless direct-to-consumer advertising that encouraged men without medical problems to seek out testosterone therapy.
Pharmaceutical companies failed to conduct adequate studies to verify testosterone products do not pose an increased risk of heart attack, stroke, and other cardiovascular problems.
Speak with a Compassionate and Experienced Testosterone Therapy Injury Attorney
Our testosterone therapy injury attorney at Stern Law, PLLC are evaluating potential low-T injury and wrongful death legal claims. Our lawyers can advise you about pursuing an individual lawsuit in state court or through the MDL litigation in federal court. We represent our clients with passion and diligence in pursuing their rights and full monetary recovery. Our attorneys work tenaciously in pursuit of the best outcome for our clients. We invite you to contact Stern Law, PLLC today at (844) 808-7529 or submit an online form for assistance.
Sources and Additional Research: