Nissan Takata Exploding Airbag Lawsuits and Lawyers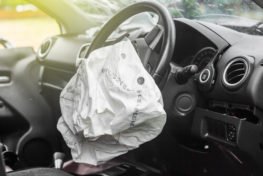 While Nissan markets safety features like airbags to consumers as an important feature for keeping vehicle occupants safe, airbags in the automaker's vehicles have recently been subject to recalls because they present a serious risk of injury or wrongful death. Nissan is equipped with Takata airbags which are part of the largest auto recall in history. The airbag inflators can explode causing shrapnel to be propelled toward vehicle occupants causing serious injuries and fatalities. Passenger side airbags also have been recalled in some Nissan and Infiniti models because of a faulty sensor which might not trigger the airbag to deploy as intended when an adult passenger is in the front passenger seat.
Free Confidential Case Evaluation: If you or someone you love has experienced a serious injury, we invite you to contact our compassionate and dedicated defective airbag attorneys at Stern Law, PLLC immediately by calling 844-808-7529. You may be entitled to financial compensation for your injuries and other losses, and our lawyers can explain your rights and options.
Why Are Nissan Vehicle Airbags Causing Injuries and Fatalities?
Multiple Nissan models are subject to recall for two significant but unrelated safety issues:
Takata airbag recall
Nissan Passenger seat airbag recall
Takata Airbag Recall
The Takata airbag recall has been labeled the largest vehicle recall in history, and potentially the largest recall of any product. As of May 4, 2016, these faulty airbag recalls extended to seventy millions vehicles in the U.S. and a hundred million worldwide. The National Highway Traffic Safety Administration (NHTSA) estimates that 34 million vehicles in the U.S. might be equipped with these defective airbags. Nissan is one of twelve vehicle manufacturers who have recalled vehicles with airbags linked to faulty inflators and propellant devices which might deploy improperly and explode, causing shards of metal to shoot at vehicle occupants. A New York Times report in September of 2015 reported l1 fatalities and more than 139 injuries that involved Takata airbags.
The problem has been linked to the inflators used to fill the airbags during a collision. The inflators include a metal cartridge loaded with propellant wafers. When the inflator housing ruptures during an "explosion" caused by the propellant chemical, potentially legal metallic shards are sprayed throughout the passenger cabin of the vehicle.
The problem was summarized in an expert report submitted to the NHTSA as follows, " …Takata-manufactured inflators have contained a propellant that experts have found to degrade over time, sometimes causing excessive pressure to be generated during deployment, and potentially causing the steel inflator housing to rupture, propelling steel fragments outward. These metal fragments present vehicle occupants with the potential for injury or death."
The NHTSA has traced the problem to use of ammonium nitrate-based propellant without a chemical drying agent. Factors including high temperature, age, and humidity can cause the inflators to malfunction and even expose vehicle occupants to flying shrapnel. Takata has been criticized by the National Highway Traffic Safety Administration (NHTSA) for slow implementation of airbag inflator recalls, which were initially limited to high humidity locations. However, the recall of Nissan vehicles has become national in scope after substantial criticism and a record fine from the NHTSA.
Nissan Passenger Seat Airbag Recall
Several models of Nissan vehicles also have also been recalled because of a problem with the occupation sensor in the front passenger seat of the vehicles. The purpose of the sensor is to turn off the passenger airbag if it detects a child (i.e. person of light weight) riding in the seat. The sensor was included in the airbag system to prevent airbags from deploying into a child because airbags can cause serious injury to children. However, the sensor has been recalled because it might misidentify an adult sitting in the passenger seat as a child and prevent the passenger airbag from deploying.
What Nissan Vehicles Are Covered by Recalls
Nissan Vehicles Recalled Based on Defective Takata Passenger Side Airbags:
2002-2006 Sentra
2002-2004 Nissan Pathfinder
2001-2003 Maxima
2007-2011 Nissan Versa
2003-2008 Infiniti FX
2002-2003 Infiniti QX4
2006-2010 Infiniti M35/M45
2001-2004 Infiniti I30/I35
Nissan Models Recalled Based on Faulty Passenger Seat Airbags:
2013-2016 Nissan Leaf
2013-2017 Nissan Pathfinder
2013-2016 Nissan Altima
2014-2017 Nissan Rogue
2013-2016 Nissan Sentra
2013-2017 Nissan Maxima
2013-2016 Nissan NV2000
2013-2016 Nissan Murano
2015-2016 Chevrolet City Express
2013-2016 Infiniti JX35/QX60
2013-2016 Infiniti Q50
How Many People Have Been Harmed by Defective Takata Airbag Inflators?
A New York Times report in September of 2015 reported l0 fatalities and more than 100 injuries, involving Takata airbags among all vehicle manufacturers.
Actions Taken by the Federal Government
The NHTSA recently announced that it was expanding and accelerating the Takata air bag inflator recall to protect vehicle occupants in the U.S. Under a recent Amended Consent Order Issued May 2016 to Takata, the company must make some safety defect decisions that will support the recall of an additional 35-40 million inflators. These new recalled units would push the number of recalled inflators over 60 million when added to the 28.8 million units in vehicles already recalled. The recall effort is so massive that it is being implemented in phases based on the priority of risk based on the age of the inflator, as well as humidity and temperature where the vehicle is located.
Types of Injuries Caused by Ruptured Takata Airbags
Our defective airbag lawyers represent clients who have experienced catastrophic injuries or wrongful death because of defective Nissan airbags, including
Blindness or Hearing Los
Paralysis
Loss of limbs
Traumatic Brain Injuries
Spinal Cord Injuries
Death
Evidence Takata Was Aware of Risk of Exploding Airbag Inflators in 2004
A New York Times report indicated that Takata knew airbags could cause metal shrapnel to be expelled in a crash as early as 2004 after an airbag inflator exploded in a 2020 Honda Accord during a crash in Alabama. The shrapnel propelled into the vehicle and  injured the driver. Despite numerous report of injuries caused by metal projectiles after inflator ruptures in 2007 and 2008, Takata is slow to take steps to implement recalls. In a 2008 incident, the driver endured "blood gushing" from his neck after being struck by a two-inch metal fragment during a rupture in a "minor collision" according to the New York Times report. In 2009, a woman tragically died as she "bled to death in front of her three children" after shrapnel struck her in the chest and head.
Contact Stern Law, PLLC for a Free Nissan Defective Airbag Lawsuit Evaluation
Although multiple lawsuits have been filed by family members who lost loved ones to Takata airbag injuries, the settlements in most of these cases have remained confidential. However, one case in which the results were made public settled for $3 million. The case involved a woman who died after the airbag in her vehicle exploded and propelled shrapnel.
While the outcomes of cases differ base on the unique facts and circumstances, our defective airbag lawyer tenaciously pursue the fullest recovery for individuals who have suffered serious injuries or wrongful death. We invite you to contact Stern Law, PLLC at 844-808-7529 or complete an online contract form for a free case evaluation.