Balcony Collapse & Railing Failure Accident Lawyers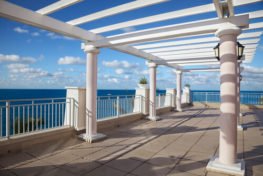 Balcony Collapse – Railing Failure Accident Lawyers
That view from your hotel room's or friend's balcony may be a view to die for – literally. Railings on balconies are required safety features and provide individuals with a degree of assurance that, despite the height of the balcony, the person is safe from falling. We trust that these railings will remain stable despite us leaning on the railing or grasping the railing. Tragically, this does not always hold true. Railings can give way or crumble while in our hands: If we are leaning on the railing or using the railing to get a better view of our surroundings, the resulting fall may result in catastrophic injuries – or even death.
Regardless of the outcome of a fall due to a railing failure, the victim and/or the victim's family will certainly be left with significant expenses and financial losses along with mental anguish. These may be compensated through a balcony collapse personal injury lawsuit.
The Responsibilities of a Property Owner
Regardless of whether a particular property is a residential home, a hotel, or some other type of business, the owner of that property owes guests that he or she invites onto the property certain legal obligations. These obligations include the duty to perform regular checks of the property – including balconies and their railings – to ensure there are no dangerous conditions that exist on the property. If such conditions are discovered, the property owner has two options:
First, the property owner can choose to have the dangerous condition repaired.
For example, if a check of his property reveals that the railing on a balcony is dangerously loose and may fail if too much pressure is applied, the property owner can choose to repair the railing to make it secure.
Alternatively, the property owner can keep guests away from the dangerous condition.
A hotel owner who knows the balcony railing in room 210 (for instance) is in danger of collapse may secure the railing so it does not fall and then refuse to rent room 210 to any guests. The property owner will probably want to take additional steps to protect guests from the dangerous railing like keeping room 210 locked at all times and placing warning signs around the room and balcony.
One option that is not available to property owners is the option of refusing to make routine checks of their properties. If a dangerous balcony condition exists and it is determined that a reasonable property owner would have discovered the condition, then the property owner will be treated as if he or she knew of the condition – even if he or she, in fact, did not.
Holding a Property Owner Responsible for a Railing Failure
While laws vary from state to state, many states require some showing of negligence on the part of a property owner or other related person before that person can be held responsible for the costs and losses experienced by a railing failure injury victim. (Other "persons" that may be held responsible include individuals or companies that install railings in a defective or improper manner.)
This is established through evidence and the testimony of witnesses that shows:
The property owner being sued owed the injury victim a "duty of care" – that is, a duty to behave in a certain way. As noted earlier, property owners owe guests certain duties of care that pertain to the safety of the owner's property;
The property owner instead behaved negligently or recklessly, or otherwise did not follow through on this "duty of care;"
The property owner's negligent behavior is what caused the victim's injuries.
These may seem like simple propositions, but some of them may be difficult to prove. A property owner will likely claim that he or she did routine inspections and had no way of knowing that the railing was defective prior to its failure. Injury victims should be prepared to counter this claim with witnesses who can truthfully state that the property owner did not perform any inspections, or evidence that suggests the property owner was lax about maintaining his or her property in a safe state for guests.
Premises Liability Attorneys Provide Advocacy for Railing Failure Victims
If you or a loved one suffered a head, neck, spine, or other type of injury as the result of a balcony railing failure, Stern Law, PLLC would like to speak with you about your case. Call our firm right away at (844) 808-7529. You may be entitled to compensation for your injuries, expenses, and losses. There is no way to know what compensation to which you are entitled, however, until our firm has carefully investigated your claims and evaluated the facts of your case. Where a property owner or other person's negligence contributed to your balcony collapse injuries, our firm will zealously pursue compensation on your behalf.