An Overview Bicycle Accident Injury Claims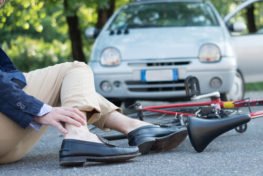 Bicycles are a popular form of transportation and exercise. In major metropolitan areas, it can be more convenient (and less expensive) to travel using a bicycle. In temperate climates, a bicycle can provide a fun and relaxing way to exercise and take in the weather and scenery. Recognizing that bicycles remain a popular mode of travel, some states and cities have taken steps to make their roads more "bicyclist-friendly" by designating special lanes as bicycle lanes and enacting laws requiring motorists to exercise additional caution when traveling alongside bicyclists.
Yet despite the popularity of bicycles and the bicyclist-friendly steps some states and municipalities have taken, bicycle accidents continue to occur each and every year. When a bicycle collides with or is struck by a vehicle, the bicyclist may sustain serious or even life-threatening injuries. Treatment of these injuries can be long, painful, and costly. Because of this, bicyclists injured by motorists or others while on the road may wish to pursue a claim of compensation against the at-fault party.
Common Causes of Bicycle Crashes
Despite the use of the word "accident," many bicycle crashes are preventable and avoidable. Stated differently, many bicycle crashes are the result of one or more individuals failing to exercise reasonable care while driving or commuting and instead acting negligently toward a bicyclist or others who would share the road.
Some common examples of this include:
Failing to give bicyclists sufficient clearance when passing them or turning in front of them. Some motorists may feel that bicycles are more maneuverable than a car and fail to give the bicyclist sufficient room when maneuvering around them. Motorists may believe that the bicyclist is able to quickly stop and avoid a collision with the car. However, this may not be the case if the bicyclist is not aware of the motorist's movements. Or the bicyclist's reflexes may not be quick enough to avoid a collision.
Failing to see bicyclists. It is common knowledge that bicycles are smaller than a car or truck, and so bicyclists can be overlooked by motorists while traveling. Motorists must make a conscious effort to look for bicyclists, especially when driving in areas where bicycle lanes are present or where bicyclists are likely to be. Failing to see a bicyclist can also be due to distracted driving, such as texting while driving.
Opening a car door in front of a bicyclist. When you stop your car on the side of the road and are preparing to open your door, take a moment to check for bicyclists who may be approaching your location. A bicyclist may not have sufficient time to brake or swerve if you suddenly open your car door in front of him or her, and striking your car door can cause serious injury to the bicyclist.
Motorists who do not exercise reasonable care in attempting to prevent bicycle accidents may find themselves to be the named defendant in a bicycle injury accident lawsuit filed by the bicyclist. If successful, the bicyclist may be able to recover monetary compensation to cover his or her medical expenses, lost wages, and mental pain and suffering (amongst others).
Injuries Common in Bicycle Accident Cases
One of the most serious types of injury that can occur in a bicycle accident case – and one whose risk of occurrence is within the control of the bicyclist – is a head injury. Head injuries that damage the brain may be referred to traumatic brain injuries, or TBIs. Bicyclists who suffer a TBI may find themselves unable to work or live independently, resulting in severe financial hardships for themselves and their families. By wearing a properly fitted helmet, a bicyclist can significantly reduce his or her likelihood of suffering a traumatic brain injury.
Other serious injuries that often occur in bicycle accidents include spine and neck injuries, broken bones, "road rash" (a serious skin abrasion caused by the bicyclist sliding across the street or sidewalk), muscle sprains and strains, internal injuries to organs, and/or pelvic injuries. Because bicyclists are at risk of suffering these injuries and more, it is advisable for injured bicyclists to obtain medical evaluation and treatment as soon as possible following a bicycle accident.
Answers To Your Questions About Bicycle Collision Cases
Where to Turn for Additional Assistance
As soon as possible following a bicycle accident, turn to Stern Law, PLLC for assistance in protecting your legal rights. You may be able to obtain compensation from the person or entity who caused your injury accident, but such a claim would need to be quickly filed in order to be effective. At Stern Law, PLLC, we can handle the details of your accident injury case so that you can focus on healing from your injuries and returning to your work and family activities. Contact Stern Law, PLLC today by calling (844) 808-7529 for assistance with your bicycle crash case.