Amputation Injuries From Car Accidents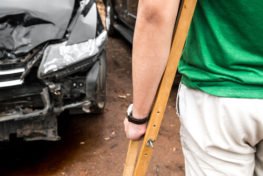 Introduction to Amputation Injuries, Lawsuits and Car Accident Lawyers
It is no secret that the loss of a limb due to amputation can profoundly impact the victim's life and the life of his or her family. The loss of a limb can make it more difficult for the person to ambulate and complete even simple tasks. While amputations are a common injury in certain types of personal injury accidents (such as construction site accidents and incidents involving heavy machinery or power tools), amputations can result from car accidents as well. Reattachment of a limb that was severed or that must be amputated for medical reasons may not always be a possibility, but a compensation award may be able to assist the injury victim in adapting to his or her new circumstances.
Amputations in Car Accidents
When one thinks about an amputation, one may conjure up an image of an accident in which a sharp piece of metal or glass slices off an arm or a leg of an injury victim. This type of "clean cut" injury is not common, however. More frequently, individuals involved in car accidents tend to lose fingers, toes, arms, and/or legs when these body parts are crushed between two hard surfaces. The affected limb becomes pulverized and not capable of being repaired. Alternatively, an injury victim may have his or her artery in his or her arm or leg cut as the result of an accident. In order to control the bleeding, a tourniquet is applied which cuts off the blood flow to the area below the tourniquet. If the blood flow is not restored within a short period of time, the tissue below the tourniquet may die and that portion of the limb may need to be amputated.
Losses and Expenses Associated with Amputation Injuries
A person who has a limb amputated will face challenges and difficulties in completing routine tasks, even if the person is able to obtain a prosthetic limb. The limitations and challenges an amputation injury victim faces may make it difficult for him or her to walk or move without assistance, fix meals for him- or herself, and/or obtain and maintain employment.
This can result in a number of expenses and financial losses, including:
Medical costs: The amputation injury victim may not only face medical bills associated with the initial amputation of the affected limb, but he or she may also incur medical costs related to follow-up doctors' visits and appointments. If the site of the amputation becomes infected, the victim may need additional medical treatment.
Therapy costs: Services are available to amputation injury victims to assist them in learning to cope with a lost limb or a prosthetic limb. These services, however, are not free. Therapeutic services can be costly and may be required for weeks or months.
Lost wages and lost future earnings: A person requiring the amputation of a limb may need to miss several days or weeks from work. More concerning, however, is the fact that this person may not be able to return to his or her previous place of employment and/or occupation. The person may need to accept a lower paying position because of his or her limitations and challenges. This can put a financial strain on the victim's family.
Mental pain and suffering: The loss of a limb is a traumatic event, one that can cause depression and other similar emotions in the victim. Although it can be difficult to quantify the economic "cost" of this mental trauma, it can be compensated through a monetary damages award in most cases.
Most state laws allow a victim whose limb or limbs are amputated as the result of a car crash to seek monetary damages from the at-fault party to compensate the victim for his or her losses. The main limitation on this is one of causality – the injury or loss for which the victim seeks compensation must be caused by the negligent behavior or actions of the at-fault party. If the victim's amputation was medically necessary for some reason other than because of trauma to the limb from the car crash (if, for example, the victim was diabetic and his or her diabetes was not being adequately managed), then the victim may not be able to recover compensation for his or her amputation from the motorist who caused the car crash.
How Stern Law, PLLC Can Help
If you or a loved one lost a limb because of injuries sustained in a car crash caused by another person, contact Stern Law, PLLC at (844) 808-7529 to learn what compensation to which you may be entitled. Act quickly, as state laws only give injury victims a limited amount of time in which to seek compensation for amputation injuries. Stern Law, PLLC will work diligently on asserting your legal rights so you can receive a full settlement or recovery.