Do I Need a Product Liability Lawyer?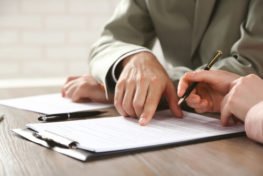 Never Sacrifice Your Rights by Representing Yourself in a Product Liability Lawsuit
Generally speaking, the process of choosing a lawyer usually begins by obtaining a referral or recommendation to a product lawyer who concentrates in the type of law required. Lawyer referrals can be obtained through the state bar association, a trusted friend or family member, or through an organization familiar with the legal issue. However, finding the right injury attorney to take your case can be a rather daunting task, especially when you are dealing with the many difficulties associated with facing personal injuries.
During this process you are likely asking yourself a number of questions, such as:
How much experience should an attorney have when representing personal injury victims?
Do I need an attorney to represent me?
Will the attorney be able to handle my case?
How will the attorney address the strengths and weaknesses of my case?
How much will my lawsuit cost me?
Should I settle my case or go to trial?
How long will my case take?
Contact Stern Law, PLLC Today For Superior Legal Representation
The answers to the above questions should all be addressed by an attorney during your initial consultation. An initial consultation may be scheduled with a lawyer in order for you to evaluate which lawyer will best meet your needs.
While an initial consultation is usually free of charge, you may wish to inquire about fees – and expectations for the initial consult – when your appointment is made. During your meeting with the attorney, it is important to assess the level of experience that he or she has in handling cases similar to yours. Essentially, working with an attorney who has had several years of experience handling product liability lawsuits is key to maximizing your chances of recovery.
Specifically, product liability cases can be extremely difficult to prove, requiring the skills of a lawyer who has literally "seen it all". Moreover, an attorney that focuses the majority of their practice on personal injury and product liability matters is important since they are better equipped to handle the complexities and nuances associated with product liability cases. Overall, a seasoned product liability lawyer will be able to examine the facts of your case, advise you of your legal options, and if your case is meritorious, effectively fight for your rights throughout the legal process.
Why Hire Stern Law, PLLC?
At Stern Law, PLLC, we are extremely proud of our many years of experience and record of success in handling product liability cases. We are firmly committed to obtaining excellent results in every case we choose to pursue, regardless of how difficult or complex.
While choosing the right attorney is an extremely personal decision, we encourage you to consider our firm given that:
We are client-focused, results driven and recognized leaders in product liability law
We have secured millions of dollars in damages for clients through deft settlement negotiations and vigorous trial advocacy
We are compassionate, patient and knowledgeable
We strive to exceed our clients expectations
Many of our legal victories have been noted in various legal journals and by the national press
We are upfront, honest and trustworthy
We care deeply about our clients
We focus the majority of our practice on product liability law
Contact Stern Law, PLLC now to learn more about your legal options
If you or a loved one sustained serious injuries or property damage as a result of medical product manufacturers, you may be entitled to compensation for your costs associated with your medical treatment, emotional trauma, pain and suffering, out-of-pocket expenses, lost wages and more. For information on filing a defective product lawsuit, call Stern Law, PLLC at 1-844-808-7529, or complete an online contact form to schedule your free confidential case evaluation. We are available 24 hours a day, 7 days a week to answer all of your questions, absolutely free.