DePuy High Flex Knees Lawyers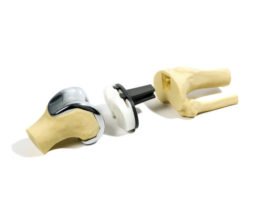 Warning: DePuy High Flex Knee Replacement Devices Can Cause Serious Complications
Each year, it is estimated that over 200,000 knee replacement surgeries are performed in the United States. While there are several forms of knee replacement implant devices, a device manufacturer, DePuy Orthopedics, ("DePuy"), introduced high mobility knee implant devices such as the Sigma CR150 High-Flex Knee System and the Sigma RP-F Knee System, which are both part of DePuy's Press Fit Condylar, or PFC, Sigma Revision Knee System product line.
Despite DePuy's claims that its high flex knee replacement products create much more mobility and rotational freedom for its patients, they have unfortunately received quite a bit of public scrutiny, due to serious complications associated with their usage, such as:
Loosening or fracture of the implant components
Dislocation and instability of the prosthetic knee
Bone fractures
Nerve damage
Swelling
Decreased range of motion
Painful walking/moving
Reactions to the implant's materials, such as cancer
Bone disintegration
Blood clots
FDA Warnings about the DePuy High Flex Knee Implant Replacement Device
While DePuy High Flex Knee implants have yet to be recalled by the FDA, the agency nonetheless has recognized that there are serious complications associated with the use of DePuy High Flex Knee Implant devices. Accordingly, in 2010 the FDA issued a warning to its manufacturer after improperly marketing a software program and surgical instrumentation system used to ensure the proper placement of DePuy High Flex knee implants during surgery. This system was developed by DePuy given research that has suggested that even a slight misalignment of the implant can cause serious complications, requiring subsequent corrective revision surgery.
What's the Problem with DePuy High Flex Knee Replacement Implant Devices?
Several studies have suggested that DePuy High Flex Knee replacement devices offer no additional benefits, such as an increased range of motion, in comparison to other forms of implant prosthetic devices. Moreover, an additional study demonstrated that there is a significant likelihood that implant components will loosen, causing pain and subsequent corrective revision surgeries to remove the defective devices. As a result, many are urging the FDA to require DePuy to recall some of its high flex knee replacement devices.
DePuy High Flex Knee Implant Replacement Devices in the News
Over the past decade, DePuy High Flex Knee implant components, (such as DePuy's LCS Orthopedic Knee Implant Meniscal Bearing Insert and LCS Duofix Femoral Components), have been recalled in several countries (however, not in the United States) across the globe by its manufacturer given the loosening of implant parts, improper labeling and other complications reported by DePuy knee implant patients. As a result of the recalls, a class action lawsuit was filed in an Australia federal court, seeking monetary compensation for patients who have suffered adverse effects from components of DePuy High Flex knee implant devices.
Our Class Action Lawyer is Ready Now to Help You
It is crucial to speak with an attorney who is qualified to handle the various complexities and nuances associated with suing device manufacturers. Only a skilled DePuy class actions attorney can help victims of DePuy High Flex Knee Implant devices and other similar products recover monetary damages for costs due to medical treatment, pain and suffering, as well as lost wages. You certainly need an attorney on your side who has the experience necessary to help you get the compensation that you deserve.
Get a DePuy High Flex Knee Implant Device Case Evaluation
Give us a call today to see if you or a loved one may be entitled to recover monetary damages from complications caused by knee replacement implant manufacturers. Call attorney Ken Stern at 1-844-808-7529, or complete an online contact form for assistance.