Viagra, Cialis Melanoma Skin Cancer Lawyers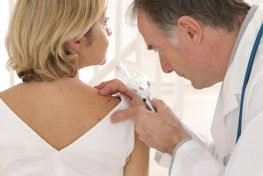 Melanoma Skin Cancer Side Effect Associated With Erectile Dysfunction (ED)
Many Americans have seen television and print advertisements for drugs like Viagra, Cialis, Levitra, and other similar drugs that treat erectile dysfunction. These advertisements usually promote an idea that taking these drugs will resolve a man's erectile dysfunction and restore his vigor, youthful energy, and the "spark" in relationships that has been missing. New studies suggest, however, that taking these drugs may increase a man's risk of developing malignant melanoma.
Description of Erectile Dysfunction Drugs
Some of the most popular drugs used to treat erectile dysfunction and other similar conditions are classified as phosphodiesterase 5 (PDE5) inhibitors. These drugs act by slowing the degradation of cyclic guanosine monophosphate (cGMP). When a man becomes aroused, the body releases nitric oxide into the penis. The presence of nitric oxide leads to increased levels of cGMP, which in turn relaxes the blood vessels that deliver blood to the penis and causes the man to experience an erection. PDE5 acts to reduce levels of cGMP, thereby causing the man to lose his erection. By inhibiting the production and presence of PDE5, drugs like Viagra and others are able to help the man maintain his erection longer.
Studies Link PDE5 Inhibitors to Malignant Melanoma
A 2014 medical study concluded that sildenafil (Viagra) appeared to increase a person's risk of developing malignant melanoma (but not other forms of skin cancer). The study found that the inhibition of PDE5 increases the likelihood that tumor cells will multiply and spread. Therefore, PDE5 inhibitors like sildenafil (Viagra and Revatio), tadalafil (Cialis and Adcirca), avanafil (Stendra), and vardenafil (Levitra) may increase the person's chances of developing malignant melanoma.
This risk is even greater if the man has other skin cancer risk factors such as:
Excessive exposure to the sun;
Personal or family history of squamous cell skin cancer or basal cell skin cancer;
Parkinson disease.
Studies concluded that a man who used Viagra may have up to a 50 percent greater risk of developing malignant melanoma than a man who did not use the drug. Additional studies are being conducted by the Food and Drug Administration (FDA) to determine the link between PDE5 and malignant melanoma.
Lawsuits Filed Against Pfizer
Pfizer, the pharmaceutical company that manufactures Viagra, has been named as a defendant in lawsuits filed in federal court by men who claim their use of the drug led to the development of skin cancer. These cases were consolidated in 2016 and are presently still pending. Other lawsuits are still being filed in state and federal courts.
Many of these lawsuits allege that Pfizer is responsible for paying compensation to these men because:
Pfizer knew or should have known that Viagra increased the risk of developing malignant melanoma but concealed this information from the public;
Pfizer failed to take reasonable steps to explore the connection between use of Viagra and skin cancer before the drug's approval by the Food and Drug Administration;
Pfizer continued to market Viagra even after studies emerged suggesting that taking Viagra increased a man's risk of developing skin cancer.
Pfizer and other drug manufacturers have a legal obligation to produce and market drugs that are safe for their intended use(s). They must also warn consumers of potential side effects that can result from use of the drug.
Developing Melanoma After Taking a PDE5 Inhibitor
If you took Viagra, Cialis, or another drug for erectile dysfunction and later developed melanoma, you may have a claim for compensation against the drug manufacturer. The link between PDE5 inhibitors like Viagra and Cialis is still being explored, so it is highly beneficial for individuals to have the assistance of an experienced and resourceful attorney who can help them in evaluating their claim. The informed opinion of one or more expert witnesses may be necessary to establish a causal connection between your use of Viagra and the development of your melanoma.
If such a connection is established and evidence shows that the drug's manufacturer failed to provide you with adequate warnings about the potential risk of developing skin cancer, you may be able to recover compensation for:
Medical costs and the expenses associated with treating your skin cancer, including any follow-up care you may require;
Any prescription medications you may need to manage your symptoms;
Lost wages due to time you missed from work;
Mental pain, suffering, and anguish.
Stern Law, PLLC is an experienced drug injury claims attorney and can help men who took Viagra or other similar drugs for erectile dysfunction and who later developed malignant melanoma. The costs of treating skin cancer can be quite significant, and men whose cancer is attributable to Viagra or another PDE5 inhibitor should not resign themselves to bearing these financial costs alone. Call Stern Law, PLLC at (844) 808-7529 and learn how the assistance of our knowledgeable firm can help you in pursuing a claim for compensation against Pfizer or other erectile dysfunction drug manufacturer.