Wright Medical Hips Lawyers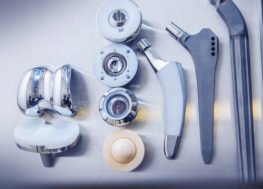 Warning: Wright Medical Hip Replacement Devices Can Cause Serious Complications
Each year, approximately 270,000 people in the U.S. undergo hip replacement surgery, with more than 20% of them performed using what is known as "metal-on-metal" hip implants. A metal-on-metal hip implant is a device that contains a metal ball and socket which are typically made of chromium or cobalt. For many years before the use of metal-on-metal implants, earlier devices were made from other materials such as polyethylene (plastic) or ceramic. However, over last ten years, many orthopedic surgeons have favored implants made with metal stems and sockets, as they appeared to be more resistant to dislocation and material wear and tear. Hip replacement devices that showed promise for people with serious hip problems are the metal-on-metal Wright hip replacement systems (such as the Profemur Total Hip System and Conserve Plus hip implant) manufactured by Wright Medical Technology, ("Wright").
Since then, several of Wright's devices have unfortunately received quite a bit of public scrutiny, due to serious complications associated with its use, such as:
Chronic hip, groin or back pain
Painful walking or moving
Swelling in the hip/groin area
Dislocation or loosening of the implant device
A clicking or crunching noise originating from the implant device
Decreased physical ability
Metal poisoning
Subsequent hip implant revision surgeries
Cancer from toxic metal exposure
FDA Warnings about Wright Medical Hip Replacement Systems
According to a Bloomberg article published in July 2012, the FDA reported approximately 16,800 complications, such as those listed above, associated with the use of metal-on-metal hip implants (including the Wright Profemur Hip Replacement) in the United States between 2000 and 2011. Moreover, FDA has also issued a statement entitled "Concerns about Metal-on-Metal Hip Implant Systems", indicating that there may be a risk of metal poisoning associated with having a metal-on-metal implant devices. According to the FDA, while metal-on-metal hip replacement implant devices generally have risks associated with material wear of these devices, they also carry with them a risk of poising due to the fact that metal ions from particles that wear off the implant device may enter the bloodstream, causing severe health effects. Specifically, the FDA warned that patients with metal poisoning due to hip replacement implant devices may experience nerve damage, thyroid and kidney problems. Recently, the Food and Drug Administration met with orthopedic specialists due to the growing body of evidence across the globe establishing that metal-on-metal hip implant devices have a higher failure rate than those made of other materials, such as plastic or ceramic. The FDA indicated that it will release its recommendations shortly.
What's the Problem with Wright Medical Hip Implant Devices?
Pursuant to the Australian Joint Registry, the Profemur Z hip implant, manufactured by Wright, evinced an 11.2 percent rate of failure during a three year period. Additionally, the National Joint Registry for England and Wales released, in its Eighth Annual Report, that Wright Conserve's rate of revision surgery is almost as high as that associated with the DePuy ASR. In other words, approximately one in twelve patients who receive a Wright Conserve implant will require a surgery to remove the defective device within five years after implantation. According to another study published in the British Medical Journal, it indicates that implant manufacturers such as Wright were fully aware of the evidence linking metal-on-metal hip devices to serious side effects. The report also provided that several thousands of people across the globe who received Wright Medical hip replacement implants and other similar devices may have been exposed to dangerous amounts of toxic metals, due to wear and tear of these products.
https://www.drugwatch.com/hip-replacement/wright-medical/
Wright Medical Hip Replacement Systems in the News
Wright's hip replacement systems, such as its Conserve Plus implants, have been under significant scrutiny due to serious complications associated with using these devices. Accordingly, numerous lawsuits have been filed against Wright, with many of them having been consolidated into a federal multidistrict litigation, or MDL, in the United States District for the Northern District of Georgia, identified as In Re: Wright Medical Technology, Inc. Conserve Hip Implant Products Liability Litigation, MDL NO. 2329. This matter represents the third multidistrict litigation case filed to consolidate defective hip implant cases and is expected to include nearly 20 lawsuits. Overall, the claims alleged in MDL No. 2329 assert that Wright's Conserve Plus implants were defectively designed by its manufacturer, and also, were not the subject of proper public warnings about the potential complications associated with the use of this device.
Our Lawyer is Ready Now to Help You
It is crucial to speak with an attorney who is qualified to handle the various complexities and nuances associated with suing device manufacturers. Only skilled product liability lawyers can help victims of Wright Medical hip replacement systems and other metal-on-metal implant devices recover monetary damages for costs due to medical treatment, pain and suffering, as well as lost wages. You certainly need an attorney on your side who has the experience necessary to help you get the compensation that you deserve.
Wright Medical Hip Replacement Case Evaluations
Give us a call today to see if you or a loved one may be entitled to recover monetary damages from complications caused by metal-on-metal hip replacement implant manufacturers. Call attorney Ken Stern at 1-844-808-7529, or complete an online contact form for assistance.