Uber Driver Car Accidents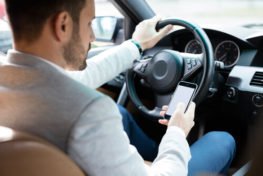 Introduction to Uber Driver Accidents, Lawyers and Injury Lawsuits
Uber is a ridesharing service that is quickly sweeping the nation and appearing in an increasing number of cities and locales. Ridesharing is a new arrangement in which a company (Uber) creates an online app or service through which individuals seeking a ride within a particular geographical limit can find drivers who have cars and are available to transport passengers. A driver who is logged in through the app will get a notification if he or she is selected by a passenger for transportation. If the driver accepts the request, the driver will proceed to the location where the passenger is waiting and transport the passenger to his or her desired destination. The passenger pays the driver through the ridesharing company's app.
While this may seem like an easy and more modern way to travel, traveling with Uber is not always safe. When you or a loved one are injured because of the careless or reckless actions of an Uber driver, you may find obtaining compensation for your losses difficult.
Uber Drivers are Independent Contractors – and This is a Problem for You
Unlike traditional taxicab drivers who are considered employees of their companies, drivers registered with Uber are considered independent contractors. This means that the driver – not Uber – is responsible for his or her actions (generally speaking). Uber initially screens drivers who register to be listed with the company's ridesharing app and may perform an equipment check of the vehicle the prospective driver proposes to use, but the driver is ultimately responsible for making certain he or she maintains his or her driver's license and keeps his or her car in safe operating condition.
Uber does provide insurance to its drivers, but this insurance is usually only in force when the driver is carrying a passenger for fare and is logged in through the Uber app. Where the driver is not logged in or where the driver is not actively transporting an Uber passenger, Uber's insurance company has resisted paying claims for compensation. For example, in the past Uber's insurer has refused to pay a claim for compensation filed by the family of a girl who was killed when she was struck by an Uber driver. The driver was logged on and listed as available to provide rides through the Uber app, but was not transporting a passenger at the time of the crash.
Who Pays When an Uber Accident Occurs?
Uber drivers must carry their own insurance policy, and this can create problems when you are injured with the Uber driver is "on the clock."
Some of the problems you may encounter include:
Which insurance carrier should pay first? The driver's personal policy may say that Uber's carrier must pay its policy limits first, while Uber's carrier may say the opposite. This can lead to a delay in the payment of your claim.
Does the personal insurance policy even cover this accident? Some insurance carriers are not excited to be exposed to the potential liability that exists when their client offers rides for passengers for compensation. As a result, the driver's personal insurer may be unwilling to pay any compensation at all to you. This, in turn, can lead Uber to claim the driver was not properly registered with its service since he or she did not have an adequate personal auto insurance policy. Again, these squabbles and disputes can mean delays in the payment of your claim.
Is a global settlement being offered? Where there are more than two parties or more than a single claim in a given personal injury incident, the parties may attempt to resolve the incident through global settlement – a settlement which resolves all of the pending claims the injury victim(s) may have against all of the defendant(s) in the case. This means you must be careful if you are offered a settlement by one insurer or the other. Read the offer carefully and pay particular attention to (1) the amount offered to you as compensation for your injuries; and (2) whether your acceptance of the settlement offer would preclude you from seeking additional compensation from any other insurer or party involved in the accident.
Stern Law, PLLC Can Help Provide Clarity After an Uber Accident
Because Uber accidents can be so confusing, many injury victims find the assistance of experienced and knowledgeable legal counsel indispensable. Stern Law, PLLC can help you better understand the legal challenges you face in obtaining compensation for your Uber-related injuries – and Stern Law, PLLC can help you confront and surmount those challenges. Our firm is an experienced and skilled voice for injury victims, and our firm prides itself of tenaciously fighting for our clients' rights. If you have been injured in a car accident by an Uber driver (whether on the clock or otherwise), call Stern Law, PLLC at (844) 808-7529.